This slideshow requires JavaScript.
KJIPUKTUK (Halifax) – Well over 100 people gathered at the Halifax Law Courts on Lower Water Street this morning to send the message that Nova Scotians don't like secretive deals turning a biologically rare coastal site into golf courses and resorts for rich people.
The rally occurred at the Law Courts to support biologist Bob Bancroft and the Eastern Shore Forest Watch Association, who before Justice Christa Brothers of the Supreme Court argued that the province should have consulted the public before de-listing Owls Head.
"This decision to de-list a Provincial Park without public consultation was disrespectful to the citizens of Nova Scotia. We know through science-based facts that Owls Head is a rare ecosystem that has not been touched since the last ice age," said Beverly Isaacs, who lives near the park.
"The value of this land is priceless. This is my community and this is your community. If we do not stand up and protect it, it will be ground into dust. No more will it be able to protect our environment as it has for the last 10,000 years," she said.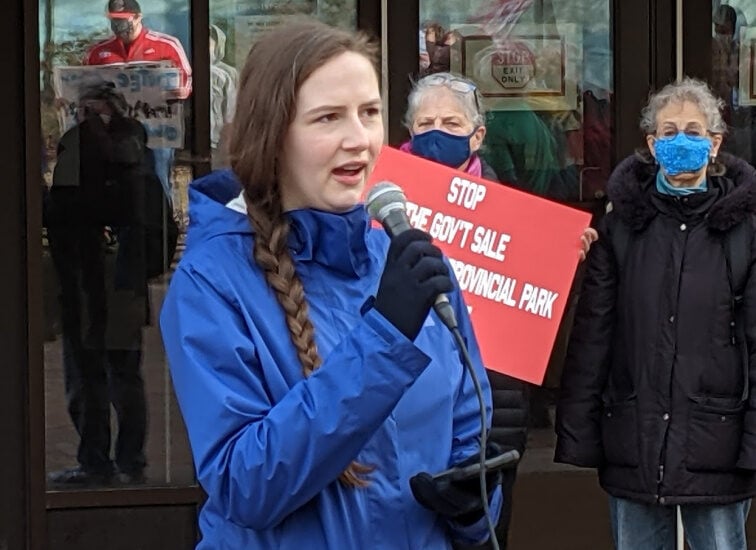 Lindsay Lee is a major force in the fight to save Owls Head. She told the crowd that the thousands of Nova Scotians together raised $27,000 to support the court case.
Our government identified the Owls Head property as a provincial park, but unfortunately it did not follow through on the inherent promise of that title," said Lee. "If Owls Head Provincial Park isn't safe then none of these provincial parks that are awaiting formal designation are safe."
"The government has a choice. They can either do this the easy way or they can do this the hard way," said Tynette Deveaux of the Atlantic Chapter of the Sierra Club.
"We're going to succeed regardless. You all know we're also fighting for the future of the planet. We can't lose and we won't lose because we'll stand together and we'll figure this out. The golf course will never be built because if we don't win in the courts, folks are going to sit on the roads to block those trucks from trying to create a golf course," she said.
"it feels great to be eating again," said Jacob Fillmore, just off a 23-day hunger strike and an arrest after occupying premier Iain Rankin's office.
"That it takes decades for a park to receive formal protection is in itself shameful. But that the government can so easily and in secret, undo all the work that went into protecting such a site is even more shameful," he said.
Fillmore called on the protesters to join him in the afternoon for the protest against police brutality at the Halifax Regional Police headquarters.
"Approximately 15 to 16 years ago, a stranger from the United States purchased some property in Little Harbour. This property lies between my parents' home and Owls Head Provincial Park. This was the first time that someone moved to Little Harbour, built a home and gated their property from the rest of the community," Sydnee Lynn told the crowd.
"Over the next 15 to 16 years the same person purchased 21 additional properties in the community. Most of these properties are still sitting vacant. In December of 2019 Michael Gorman, a CBC reporter announced that he was informed by a whistle blower that Owls Head Provincial Park was to be sold to that very same person."
We're talking about a bio-diverse property with undisturbed wetland, salt marshes, bogs, a freshwater lake, beaches, and much more. Now this stranger proposes to turn this provincial park into three 'world class' golf courses, he proposes to grind 10,000 year old natural bedrock into sand, he proposes to alter the wetlands, he proposes to trucking thousands of loads of soil and convert this rare ecosystem into a grass monoculture that will be managed by nitrates and pesticides," she said. "Just the thought of this brings tears to my eyes."
Garry Burrill, leader of the Nova Scotia NDP, as well as Thomas Trappenburg and Jessica Alexander, leader and deputy-leader of the Nova Scotia Green Party, also spoke at the rally.
This slideshow requires JavaScript.
See also: A shot across the bow: Government offices occupied across Nova Scotia as Jacob Fillmore ends hunger strike