KJIPUKTUK (Halifax) – December 6th. It's an anniversary that sneaks up on me every year, like the anniversary of the death of my mother. The day starts like any other and it might stay normal for hours, but at some point I realise I am circling it. It is drawing me in.  It's a hole. It's empty and full at the same time. It's sad and angry. It's grief.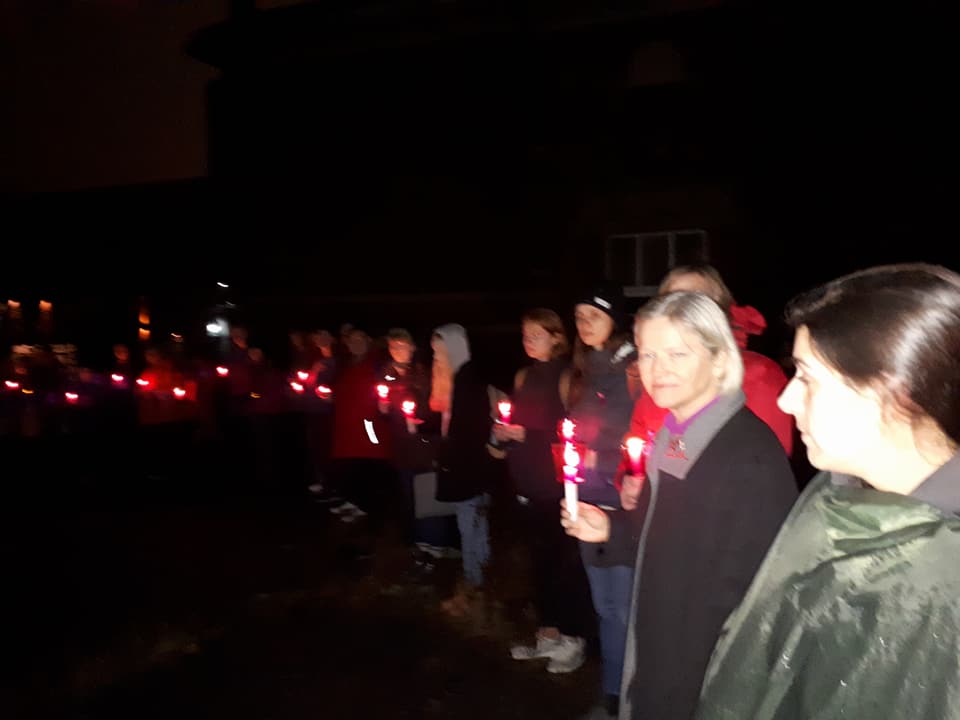 December 6th is the anniversary of the Montreal Massacre when 14 women were executed by a gunman in a university classroom simply for daring to take space. Of course, December 6th doesn't commemorate only those 14 women, it is now a national day of remembrance and action on violence against women. An observance of the loss of the multitudes of sisters and daughters and mothers, whose absence leaves a void in our humanity.
This year, as in prior years, December 6th was commemorated through a Not So Silent Vigil in the North End of Halifax. Starting at the North End Library, a group gathered and walked through the neighbourhood with lighted candles, stopping at the site where the body of murdered Mi'kmaq mother of five Tanya Brooks was discovered, before arriving at the Mi'kmaq Native Friendship Centre.
People sat at long banquet tables and shared a meal, while many people took the stage.
There were hymn like songs, and protest songs and raw poems written by sex workers. There was Mi'kmaq drumming and a voice from the transgender community. Before the screening of a video by the Music Liberatory collective a member spoke of her approach to activism, art and change.
El Jones recounted the experiences of women, victimized and revictimized, incarcerated at the Nova Institution for Women.  Aaron Prosper offered cautioned advice not to let "converted" men off the hook, instead to communicate with the young men in our communities, to instil the idea that honouring the women in our lives is not an option but a responsibility. The night was an inspiring call to action.
Anybody who has experienced sexual violence knows well the loneliness such a transgression provokes. The Not So Silent Vigil was good company.
If you can, please support the Nova Scotia Advocate so that it can continue to cover issues such as poverty, racism, exclusion, workers' rights and the environment in Nova Scotia. A pay wall is not an option, since it would exclude many readers who don't have any disposable income at all. We rely entirely on one-time donations and a tiny but mighty group of dedicated monthly sustainers.