KJIPUKTUK (Halifax): It is budget day in Nova Scotia, and a small group of income assistance recipients gathered in front of Province House to remind fellow Nova Scotians that life on income assistance is unlikely to get much easier as a result.

To illustrate their point members of the Benefits Reform Action Group, and the Community Advocates Network had stringed together 250 empty paper plates.

There are 155,000 people in Nova Scotia living below the poverty line. The 250 plates on display each represented 650 Nova Scotians who cannot afford the basic goods needed to live a life in dignity in this province.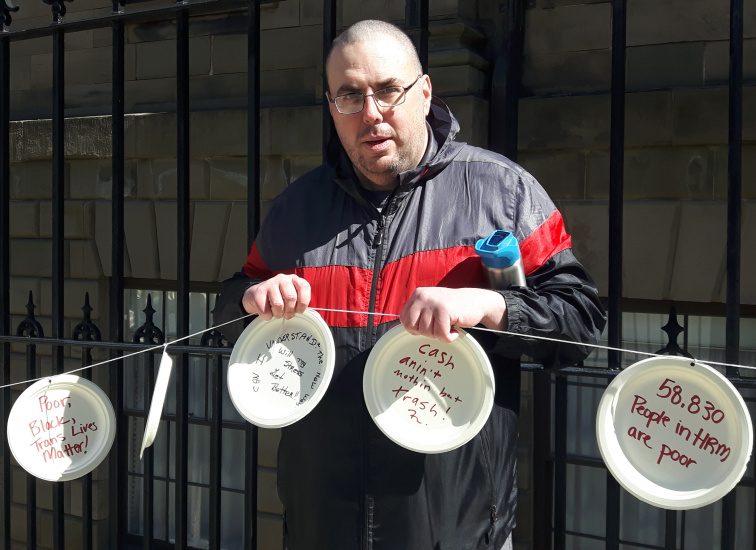 This budget includes an increase in the income assistance rates between 2% and 5%. Tim Blades, one of the protesters, is not impressed.
"Unfortunately I expect a lot of PR, a lot of mention of the word "historic", but 2% or 5% is just not going to make a real difference. Many people will end up with $11 a month more. A lot of smoke and mirrors. We need real change," Blades said.
See also: Announced poverty reduction tax credit increase for income assistance recipients mostly bullshit
Jodi Brown talked about how the introduction of the free bus pass for income assistance recipients in Halifax actually took money away from folks who earlier received a special needs travel allowance.
"Those people had the ability to allocate that money to where their need was greatest, for transportation for sure, but sometimes for food or rent, depending on the situation," she said.
Asked if she had a message for the Premier, this is what she said.
"Every day we have have roughly 30,000 children who go hungry. I have one word for our government, and that's criminal. We don't need pity, we need those rates changed in a real way, and we need them changed today."
See also: A call to action: Community agenda for social assistance adequacy and reform

With a special thanks to our generous donors who make publication of the Nova Scotia Advocate possible.
Subscribe to the Nova Scotia Advocate weekly digest and never miss an article again. It's free!