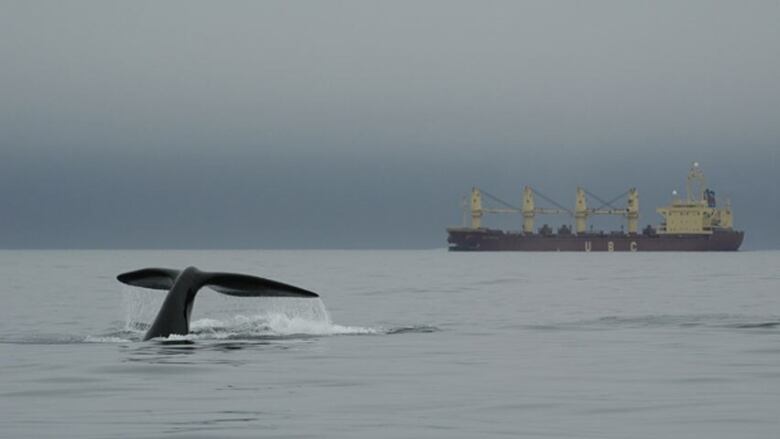 KJIPUKTUK (Halifax) – One of the most crucial roles aboard a vessel conducting seismic testing in Nova Scotia's offshore is that of the Marine Mammal Observer (MMO). 
They're the folks who look out for whales, turtles, and other sensitive species, using their eyes and sensors that pick up sounds made by whales below the ocean surface.
Turns out there are no specific requirements you must meet to do that job, qualifications are high level and pretty generic.
MMOs are paid and hired by the company conducting the survey, but are independent. Work is supposed to stop immediately when there is any sign that such ocean wildlife is present.
Anybody who has been on the Halifax harbour ferry on a really foggy day can imagine how difficult a job that must be. Thick fog and big waves can make it very difficult to see a tail flick somewhere in that vast expanse of ocean.
You don't want MMOs to make mistakes. 
The firing of arrays of air guns below sea level every 20 seconds or so increases ocean background noise levels 1000-fold over areas the size of New Brunswick. It's very disruptive to ocean dwelling creatures who frequently rely on hearing to communicate.
Seismic blasts fired in close proximity of these ocean dwellers are incredibly loud and can physically damage their hearing.
Yet according to the Canada – Nova Scotia Offshore Petroleum Board (CNSOPB) there are no specific qualifications to work as a MMO. 
"As part of our review, we look to ensure proper use of monitoring equipment, correct ID of acoustic calls on the passive acoustic monitor, working knowledge of shut down criteria and working knowledge of local species," writes CNSOPB spokesperson Stacy O'Rourke..
"Part of the CNSOPB review is also to seek advice from DFO marine mammal acoustic experts," O'Rourke adds.
Recently the CNLOPB, the Newfoundland and Labrador counterpart of the CNSOPB, was criticized by both experienced MMOs and biologists for a similar lack of clarity and rigour surrounding observer qualifications.
CBC's Patrick Butler reported that in the Newfoundland and Labrador offshore context experienced observers saw novice observers regularly miss and misidentify species.
Butler writes that in other countries, notably New Zealand and Australia, much stricter policies regarding wildlife observer qualifications are in place.
"In New Zealand, for instance, people looking to become marine observers must complete a government-certified training program. Afterward, candidates must shadow an experienced observer for at least 12 weeks before being deemed qualified," the CBC reports.
See also: Documentary tackles effect of deafening seismic blasts on whales and other sea life in Nova Scotia's offshore
With a special thanks to our generous donors who make publication of the Nova Scotia Advocate possible.
Subscribe to the Nova Scotia Advocate weekly digest and never miss an article again. It's free!