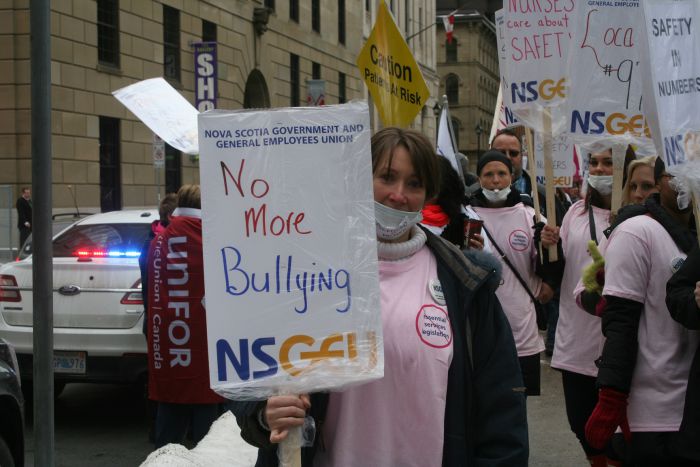 KJIPUKTUK (Halifax) – The United Conservative government of Alberta just introduced a spate of anti-union legislation. They are continuing the country-wide practice of governments cynically thumbing their noses at the Supreme Court of Canada. While hyping their commitment to collective bargaining, the provinces are practising precisely the opposite.
Not one of these union-busting laws will likely survive a Charter challenge. But that's not the point. Though the Supreme Court has pronounced definitively on several key labour issues, all this new regulation will have to wend its way through the lower courts before being thrown out.
That will cost taxpayers millions and make lawyers richer. But while the lawyers argue, the legislation sticks. And while it sticks, it contributes to a climate of intimidation and stifled collective bargaining. That's what the governments really want. Future governments can pick up the pieces and pay the price.
What are the issues involved?
Denying unionization to groups of workers:
Thirteen years ago, the Supreme Court of Canada ruled that access to unionization is Charter-protected for all save a few involved in management and confidential activities. Yet several groups are still excluded from that right, including agricultural workers, domestics and the dependent self-employed.
Crown attorneys in Nova Scotia comprise one group that has never won full unionization, rendering them vulnerable to having their negotiated access to arbitration yanked, as the provincial government here did last autumn.
Hobbling collective bargaining:
In 2015, the Supreme Court ruled that the right to strike falls under the Charter. If governments want to remove that right, they must substitute binding arbitration. But provincial governments want neither strikes nor arbitration, especially in the public sector, where either they have outlawed strikes entirely, imposing their own conditions, or have imposed a harsh regime of "essential services," rendering strikes meaningless.
Provincial governments have also impeded union access to first collective agreement arbitration. That is one of the first things the Nova Scotia McNeil government did after its election in 2013.
Making it more arduous for unions to organize:
Nova Scotia was the first province, in 1982, to kill "card count" certification of unions. Thenceforward all jurisdictions followed suit, forcing a vote and giving bosses greater leeway to bully their employees into abandoning union drives.
Some NDP governments across the country brought card count back in, but subsequent governments rolled this back. They claim votes are more democratic; but if they're so keen on democracy, why don't they allow workers in all workplaces to vote periodically if they want workplace democracy through union representation?
Stifling union political expression:
Way back in 1991 the Supreme Court ruled that unions have the right to spend their members dues on a host of political activities. If enough members disagree, said the court, they can exercise their collective power within the union to change its policy.
But the Alberta government is now trying to revisit the issue by forcing workers to opt-in to having part of their dues used for non-collective bargaining purposes. Of course, this is really a sneak attack on the NDP and unlikely to succeed in the courts.
Restricting picketing activity:
Since the earliest days of modern labour law, the courts have upheld peaceful picketing of employers. In 2002, the top court put secondary picketing (at businesses outside the main employer) under Charter protection. Now Alberta is trying to reverse both of those and to make unions pay heavy fines for blocking roads or rail lines.
Just last month, the Manitoba Court of Queen's Bench threw out legislation, similar to Nova Scotia's, freezing the wages of 100,000 public workers. The judge said the law "operates as a draconian measure that has inhibited and dramatically reduced the unions' bargaining power and violates associational rights."
But if the government appeals the ruling, as it undoubtedly will, the law will stay in place for several more years.
In Canadian industrial relations, that amounts basically to a lawless regime.
Larry Haiven is professor emeritus at Saint Mary's University and research associate of the Canadian Centre for Policy Alternatives — Nova Scotia.
With a special thanks to our generous donors who make publication of the Nova Scotia Advocate possible.
Subscribe to the Nova Scotia Advocate weekly digest and never miss an article again. It's free!