KJIPUKTUK (Halifax) – Don't worry about this fall's planned glyphosate spraying in our forests, says Dr. Robert Strang, Nova Scotia's chief medical officer of health.
Dr. Strang's statement came on the heels of  the province's approval of the applications of Northern Pulp and five other companies to spray more than 2,600 hectares of woodland with VisionMax, a herbicide containing the active ingredient glyphosate.  In forest management glyphosate kills the hardwood, that pulp-producing forestry companies do not want.
"There is no evidence that glyphosate creates a risk to human health if used properly and if the Department of Environment is monitoring where, how, and when it is used," said Dr. Strang in a news release issued last week by the provincial Department of Health and Wellness..
"Even water can be toxic if too much is consumed in a short period of time. The difference is between the possible hazard and the real-life risk," Dr. Strang said.
Yet such statements are not likely to reassure many deeply worried residents of rural Nova Scotia.
First of all, Dr. Strang's view is not one that is shared unanimously among scientists. For every endorsement there exists a countervailing opinion from somebody with equally impressive scientific credentials.
For instance, last week Francis Campbell of the Local Xpress spoke with New Brunswick wildlife biologist Rod Cumberland, who takes issue with just about any part of Strang's defense of the herbicide.
Cumberland also raises several issues that are not addressed in Strang's statement. What do we know about other toxic ingredients in the herbicide mix, he asks. And how well is its application actually monitored?   
In Europe Italy, France, Sweden and the Netherlands oppose a new 15-year licence for glyphosate that  a European Union meeting had been expected to rubber stamp.
The author of a report by the World Health Organization (WHO) that supposedly debunked an earlier report critical of the herbicide by the same organization was subsequently accused of a conflict of interest.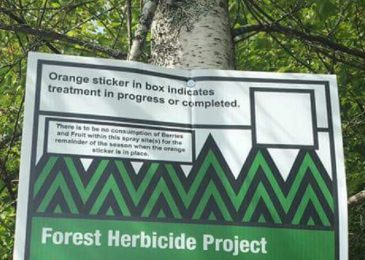 As well, defenders of glyphosate have focused on the supposedly negligible risks of the herbicide to humans. Nonetheless, signs in the areas to be sprayed are warning people not to eat berries. Did we remember to tell the birds also?
And did we tell the earthworms to vacate the premises prior to spraying? A report by the British Soil Association suggests that in terms of glyphosate's impact on soil ecosystems we know very little, which is not a good thing.
All this suggests that the jury is still out on the potential harms of glyphosate, and that Dr. Strang's news release is unlikely to reassure the many Nova Scotians who are uncomfortable with the proposed spraying program.   
That's not all.
What the scientific evaluations ignore is that risk is never a standalone consideration. People weigh risk in the context of potential benefits and available options. For instance, people tend not to care about risks associated with an activity if there is no other option. And people are willing to take more risk if they want something very badly.
In the case of glyphosate spraying there are other options. And what the spraying enables does not appeal to them anyways.
After all, the bottom line is that the spraying program is not really necessary. All it does is save a handful of forestry companies a bit of money by making clearcutting more efficient.
It's a safe bet that most Nova Scotians are not in favour of clearcutting in the first place. Clearcutting doesn't generate the kinds and numbers of jobs sustainable forestry management practices provide. Promoting softwood species over hardwood also reduces the resilience of our forests, not a trivial issue in the face of global warming.
Should bureaucrats and government politicians care more about a couple of forestry companies eager to marginally improve their profit rates, or should they listen to the people who elected them and pay their salaries?
The answer seems pretty clear cut.