Black Sheroes
Every Monday on Youth Now! Radio, the first half hour of the show has become young men calling in from Burnside prison to read poetry and speak with us. Aidan was remixing the Dead Prez song "Malcolm, Garvey, Huey." I wrote a poem to respond, as we shared poems back and forth across the radio waves, smashing through bars and liberating minds and spirits.   
My Black heroes don't drop names like Fendi Gucci Prada
My Black sheroes rock Afros like Angela Davis and Assata
But my sheroes are more than a trend and they're bigger than a hairstyle
For their people they risk death, imprisonment, and exile
They'll give you an education in gender, race and class
So for real knowledge you need to honour Afrikan women present, future, and past
Yes, Malcolm Garvey, Huey are important to feel
But I'm repping Mary Prince, Winnie Mandela, and Zora Neale
If you're only telling the history of Black men then there's a half that you missed
When we miseducate our brothers they can't relate to their sisters.
I'm talking the foundations whose praises our people never sing
But without civil rights queens like Septima Clark, Diane Nash, or Ella Baker
There would be no King
See my sheroes are hip hop in its original incarnation
Because it ain't real hip hop if it don't pay its respects to the Mothers of the Black nation
Remember the first drum beat begins in the womb
So brothers need to centre themselves in the spirit of Mama Oya, Isis and Oshun
Taking it back to Africa there's a herstory we should prize
Like Yaa Asantewaa and Queen Nzinga leading their nations to rise
Because Dear Mama ain't just the name of a song
It's the spirit of the African mother that makes our people strong
So before you drop that mixtape you better crack open a book
And read Kimberle Crenshaw, Barbara Smith, and bell hooks
Don't talk to me about gangsta if you're misleading the youth
If you want real hard talk then check Sojourner Truth
Before you call women bitches check out her speech
Because Ain't I a Woman is like church. Sista preach!
Or if you really want someone who tells it without flinching
Think of the risks Ida B. Wells took to publish on lynching.
But if you think slavery was only in America than your knowledge is weak
I advise you to learn the story of Marie Joseph Angelique
And shout out to Carrie Best, Mary Ann Shadd, and Mary Bibb
Publishing The Clarion, Provincial Freeman and Voice of the Fugitive
If you don't know your own power because your herstory was kept quiet
You need to study Eliza Parker and how she kicked off the Christiana riots.
And local Black women's history should have you changing your tune
Like in Nova Scotia with Viola Desmond, Madeline Symonds and Rose Fortune
Don't depend of celebrities to reflect you, sista widen your perspective
Go read the Combahee River Collective
Of all of our names Harriett is one of the greatest
Because we have Tubman, Powers, Wilson and Jacobs
I can tell you more names to feed your mind or sister did I stutter?
Open the books of Phyllis Wheatley, Audre Lorde, or Octavia Butler
And before you set limits on yourself because of the colour of your face
Remember Black women like Mae Jemison have actually been to space
And in my own life there is more women than I could have written
Women who inspire like Connie Sparks, Lynn Jones, Michelle Williams-Lorde and Rhonda Britton
You see my sheroes are too many to list
So I hope this poem had you throwing up a Black power fist
---
El Jones is a Halifax spoken word poet, activist and teacher. This poem is from her collection Live from the Afrikan Resistance.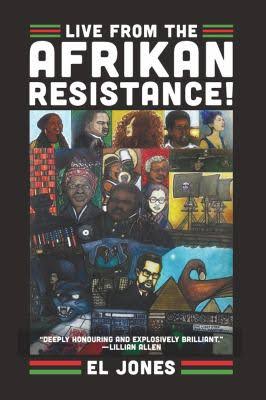 If I have a spoken word manifesto, it is simply to remind myself that and others to speak with courage, to speak sincerely, and to be real. It is that spoken word should move communities, and that sometimes it matters less if the poem is perfectly crafted, and more that it can touch people's hearts and minds. It is that language is a powerful weapon of resistance and should be used with responsibility, in service of the people, and with consciousness of what needs to be said. It is that the artist is only as strong as the audience and communities that listen and support us. 
I was tempted to add hyperlinks to the many Black sheroes Jones references in the poem. I for one know so little, it's embarrassing. But it's not for me to do that.
Just one link I will give you, because I chose her photo as the featured image for this post. Carrie Best was a journalist who in 1946 founded the Clarion, the first black-owned and published Nova Scotia newspaper.
Black sheroes reproduced courtesy of El Jones
Please support the Nova Scotia Advocate so that it can continue to cover issues such as poverty, racism, exclusion, workers' rights and the environment in Nova Scotia.