KJIPUKTUK (Halifax) – Dozens of theatre students move through the halls of the Fountain School of Performing Arts every year, but Michelle Raine is the first openly transgender woman to graduate from their acting program. The Moncton native starred most notably as Athene in The Oresteia in 2016, and since completing the acting program this May has been cast in commercials, short films, and theatrical productions in the Halifax region.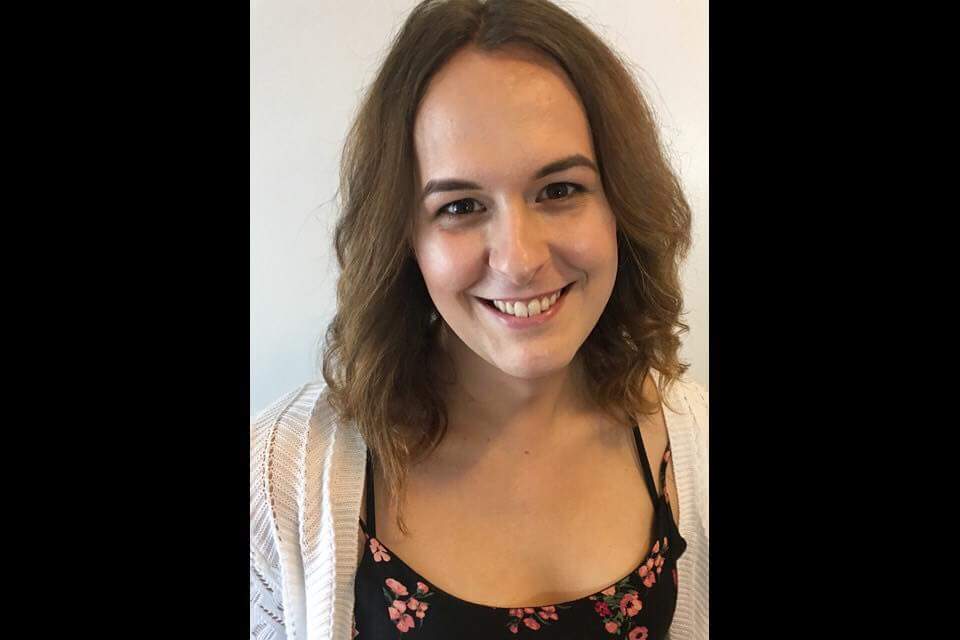 Raine and I were neighbours briefly when we were both in early stages of our transitions. Sometimes I wonder what it would've been like to have a sister with me in the time since. Sometimes, but not all the time.
We know each other as theatre artists here in Halifax. She, primarily an actor, me, primarily a director. This is my first time in her home, which she shares with other young theatre artists, the perfect incubation tank for her as she develops her new memoir/play, It's a Girl, alongside Alexis Milligan of the performing arts company Transitus.
"What's a question that cis people ask you that you wish they didn't," I ask to break the ice.
She takes a deep, careful breath. "I think the most annoying question that cis people ask me — you mean besides the *actual* default?" I'm startled, and gesture between my legs. "Is your actual default the same as my actual default?" We giggle, culminating in heavy, simultaneous sighs. Fascination with the anatomy of trans people is one of the more intrusive aspects of our existence.
"Besides the actual default it's my former name. I don't like when they try to guess my former name. I don't like that. I don't like that at all," she says.
Raine and I differ on our faith in humanity — she sees the best in people, while I frustratedly see only malice. It's this optimism that is fanning the flames of It's a Girl.
"I think that it comes from a place of wanting to learn, more than a place of the fear of the unknown," she says in her voice like a song.
Raine, though an actor by trade, is trying her hand as an educator for It's A Girl, blending her own story with lessons for trans children.
"I want to use it as much as an educational tool as possible while components of my actual life story stay involved in it. I can use life experiences to relay education. I don't want it to be patronizing or pandering to the ideas that people may have, so I want to talk about what they actually believe in this setting so I can include educational tools to change that moving forward."
"But I do still think it comes from the fact that they're choosing not to educate themselves via the internet or going to see shows — like hopefully mine will be — or going to pride events that promote an educational  aspect. All of these things people can do even if they don't fit into the LGBTQ community if they're cis straight people, they need to educate themselves, not ask individuals on the street or individuals in your vicinity ever — acquaintances, friends — you just can't ask people that. But there are a lot of tools becoming available to help people learn by themselves, which is what trans people have been doing for years." Her speech is careful yet disjointed, thoughtful yet flowing without restraint.
It's not her first time engaging the queer community — in a previous life, the New Brunswick native was the vice-chair of Moncton Pride. She says that in Halifax, her first interaction with the queer community was with Queer Acts Theatre Festival, which she calls "a little spark."
It's A Girl had a two-day open development period in which Raine got community feedback on her ideas. Now, she's off to the Halifax Fringe Festival for its debut. Naturally, it doesn't stop there.
"I would like it to be in the toolbox of schools that want to introduce [gender education] to younger audiences," she says slowly, as if begging to make herself clear. "Did anything I say make sense?" Composing herself, she elaborates.
"I think that parents would want something like this for their kids because it's hard to talk about to them, and I think it belongs in the schools younger and younger, because that's when it's affecting people." She has support — Milligan is a parent herself, and she recently worked with Shelley Thompson, mother of trans musician T. Thomason,  on a short film called "Pearls." The version of the It's a Girl at Fringe will be geared towards adults before Raine makes the jump to child education.
My time knowing Raine has seen her reclaim and reestablish her identities. She credits me, a frightening thing to hear, as helping her reclaim her gender identity, and actor Gordon White for helping her reclaim her identity as an indigenous woman.
Raine isn't unbreakable though, and anxiety is a close companion when speaking of her life and projects.
"I'm not really equipped to deal with this on an emotional level or a therapeutic level. I think − as a minority." We sit, quietly for a moment. "Was that good?" Her palpable nerves are endearing. "I keep going off on tangents. I do this a lot."
Michelle Raine is a woman who has made me think more than I have in a long time. This article has been a month in the making despite its simplicity, because I feel her story deserves time and love. As our interview winds down, she offers me a glass of water, and with wide eyes asks for her tarot cards to be read by me. As I think of her future, regardless of the outcome of the cards, I know in my heart it will be bright.
If you can, please support the Nova Scotia Advocate so that it can continue to cover issues such as poverty, racism, exclusion, workers' rights and the environment in Nova Scotia. A pay wall is not an option, since it would exclude many readers who don't have any disposable income at all. We rely entirely on one-time donations and a tiny but mighty group of dedicated monthly sustainers.