KJIPUKTUK (Halifax) – If we ever were in doubt, now we know for sure. Kelly Regan is the new minister of Community Services, but nothing has changed since Joanne Bernard went down in defeat during the last election. Austerity and secrecy continue to set its agenda.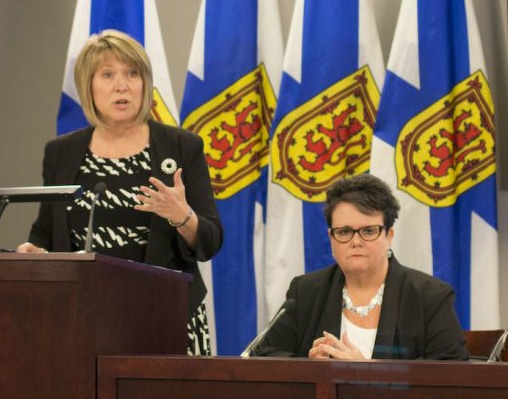 Regan's department just lost an important case when the Nova Scotia Court of Appeal determined it was wrong to withhold income assistance from an entire family because the 'head of the family' had missed an appointment with an employment counsellor.
After all, why would innocent family members suffer for something entirely out of their control?
It's how the case was argued that makes the win so significant. Lawyers for the family cited Nova Scotia's international human rights obligations, the rights of women under the Charter, and the links between racism and poverty to argue their case.
Those types of arguments were made before, but this time they clearly resonated with the Court and were referenced in the decision. That makes the decision not just a win for one single family, it's a victory for everybody who relies on income assistance in Nova Scotia.
People on income assistance have seen their benefits suspended for all kinds of reasons, not just because a caseworker thinks they don't try hard enough to find a job. Under each scenario innocent family members who didn't do anything wrong were made to suffer terribly as well.
That's why a coalition of community organizations asked that the Department consider all those cases in the review it announced after the decision came down, not just the ones exactly like the one that triggered the Court of Appeal decision. That seems reasonable to me. As well, it wanted the review to be public, not something where bureaucrats set the scope and draw conclusions behind closed doors.  
And then the coalition wanted the innocent people negatively affected by all these suspensions to get their money back.
Given that the Court of Appeal ordered the department to pay back the money it withheld from the family at the centre of the case, again, that makes sense to me. It's not like the department doesn't make damn sure it get its money back when an overpayment is made.
Minister Kelly Regan doesn't think so though.
We're only looking at the decision in its most narrow interpretation, she told Michael Gorman of CBC Nova Scotia in a story published yesterday. And repayment of money the department should never have withheld isn't going to happen either.
Apparently the notion that the review happen under public scrutiny was just plain silly. We asked, but the department didn't even bother with a response  address that part of our question.
"I just urge people to be patient; I know it's easy for me to say that, but it's coming," Kelly Regan told CBC Nova Scotia, after being asked about people on income assistance living well below the poverty line.
Hey, that's what Joanne Bernard used to say!
Click here for a copy of the news release issued by the coalition
If you can, please support the Nova Scotia Advocate so that it can continue to cover issues such as poverty, racism, exclusion, workers' rights and the environment in Nova Scotia. A pay wall is not an option since it would exclude many readers who don't have any disposable income at all. We rely entirely on one-time donations and a tiny but mighty group of kindhearted monthly sustainers.