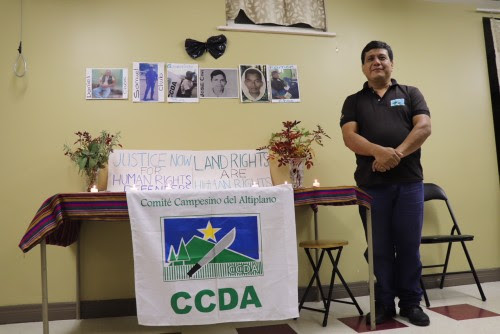 Nov 1, 2018 (Halifax) – Marcelo Sabuc, National Coordinator of the Highlands Committee of Small-Farmers (CCDA in Spanish) in Guatemala, will visit the Maritimes from November 4-11th to discuss the troubling situation for human rights defenders in his country, which has intensified in the midst of an escalating political crisis. The speaking tour is being organized by the Maritimes-Guatemala Breaking the Silence Network (BTS).
The CCDA, one of the leading Indigenous agrarian organizations in Guatemala, supports 30,000 Indigenous small farmers throughout the country in struggles for access to and defense of land and territory through advocacy, the production of coffee for export and the promotion of sustainable agriculture. Their important political work has made them the target of repression from the time of Guatemala's internal armed conflict to present.
During a wave of attacks against human rights defenders in Guatemala from May 4 to June 9th, seven community organizers working on lands rights issues were assassinated, including three CCDA members. In 2018 alone, five memberse of the CCDA were assassinated. Each of the men were active in their communities' struggle for access to land and defense of territory. National and international organizations continue to call for justice in these cases.
Mr. Sabuc, who has personally faced criminalization and repression for his important work, says: "We call on people at the national and international levels to engage in solidarity with the struggles of smallholder farmer and Indigenous communities [in Guatemala], so they're not silenced or censured, but are able to continue the struggle to one day have their human rights and right to life respected, as all human beings require."
The political situation in Guatemala has intensified since August 2018, when the government announced that it would end the mandate of the UN-backed International Commission Against Impunity in Guatemala (CICIG in Spanish). Guatemalan President Jimmy Morales' refusal to comply with a decision by the Constitutional Court to allow CICIG Commissioner back into Guatemala to resume his work, has demonstrated his lack of respect for the rule of law and thrown the country into a constitutional crisis. In this context, human rights defenders like Mr. Sabuc face increased vulnerability.
Since 2000, BTS has been engaged in a long-term relationship of solidarity with Mr. Sabuc's organization, sending many short and long-term volunteers from the Maritimes to provide human rights accompaniment and support for the CCDA's work in Guatemala. Since 2002, BTS and Just Us! Fair Trade Coffee have collaborated to sell coffee beans from the CCDA in the Maritimes. The Breaking the Silence brand of Just Us! coffee is sold at Sobey's, Foodland and Atlantic Coop.
During the speaking tour, Mr. Sabuc will visit Antigonish, Halifax, Wolfville, Sackville, Fredericton, Charlottetown and Tatamagouche.
– 30 –
Contact:
Stacey Gomez
BTS Maritimes Coordinator
BTSMaritimesCoordinator [at] gmail.com
Background information
About Breaking the Silence (BTS): BTS is a voluntary network of people in the Maritimes who began to organize in 1988 to support the efforts of Guatemalans struggling for political, social, and economic justice. Today, BTS has committees in Fredericton, Halifax, Charlottetown, the North Shore, Fredericton, and Antigonish. BTS engages in human rights accompaniment, public education and political advocacy around key issues such as the following: defense of territory; gender justice; truth, justice and impunity; and security. BTS has been accompanying communities affected by Canadian mining since 2004. For more information, visit the Breaking the Silence blog.
Links:
Halifax group gathers in solidarity with migrant caravan
Events: 
ANTIGONISH, NS
Sun. Nov 4 @ 6:30pm
St Paul's Anglican Church
Mon. Nov 5 @ 12pm
St. Francis Xavier University
https://www.facebook.com/events/1846838358756785/
HALIFAX, NS
Mon. Nov 5 @ 7pm
Weldon Law Building, 204 (second floor)
Dalhousie University
https://www.facebook.com/events/566127703817617/
WOLFVILLE, NS
Tues. Nov 6 @ 7pm
Acadia Cinema's Al Whittle Theatre
450 Main St.
https://www.facebook.com/events/722577474767415/
SACKVILLE, NB
Wed. Nov 7 @ 6pm
Avard Dixon Room 116
144 Main St.
Mount Allison University
https://www.facebook.com/events/492505977896404/
FREDERICTON, NB
Thurs. Nov 8 @ 7pm
Conserver house
180 Saint John Street
https://www.facebook.com/events/277287599581994/
CHARLOTTETOWN, PE
Sat. Nov 10 @ 2pm
McDougall Hall 328
UPEI
https://www.facebook.com/events/1928366707465967/
TATAMAGOUCHE, NS
Sun. Nov 11 @ 7pm
Tatamagouche Public Library