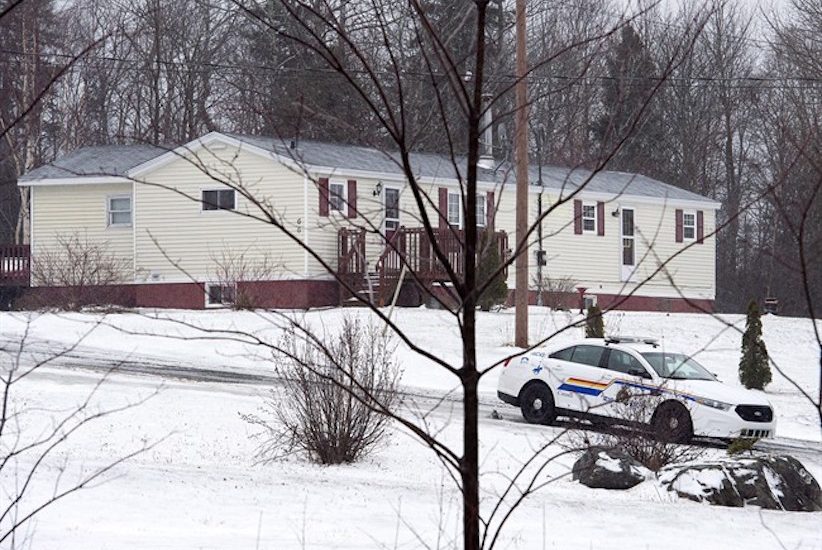 KJIPUKTUK (Halifax) – In 2017, Lionel Desmond, a young African Nova Scotian from the small community of Lincolnville, while living in Upper Big Tracadie shot and killed his mother Brenda, 52, his wife Shanna, 31, and their 10-year-old daughter Aaliyah.
During his service in the Canadian Armed Forces Desmond, who after two stints in Afghanistan suffered from PTSD, faced consistent anti-Black racism. It is important to understand that this racism has been contributing factor to his PTSD.
---
African Nova Scotians have been in the military long before Canada officially became a nation.
Many African Nova Scotians fought for Canada even when they were not welcome to do so. Many military brass and politicians said, "this is a white man's war." African Nova Scotians faced considerable obstacles and continue to face many obstacles. The number one obstacle in those days was racism, and in the opinion of many who have served and many that are presently serving, the number one obstacle is still racism.
Over fifty years I have had the great honour of speaking with many African Nova Scotians who have served in the Canadian Armed Forces (CAF) or are currently serving.
These brave souls include Deacon Sidney Jones, Cousin Charles Jordan, Cousin Walter Jarvis, Uncle Freeman Izzard, Uncle Alex Jackson, Albert Borden, Jr., William John Borden, Alex Reddick, Leonard Reddick, Charlotte Desmond, Mary Desmond, Doreen Reddick, Barbara Ann Reddick, Wilfred Borden, George Borden, Cousin Lionel Desmond, Blaine Hamilton, Frederick Johnson, Sonny Fowler, Robin A. Coward, Brian Crawford, Sheldon Borden, Wally Fowler and so many others.
I also had the pleasure and honour of having many conversations with the late Senator Calvin Ruck. As many will remember, Calvin painstakingly researched and published Canada's Black Battalion: No. 2 Construction, 1916–1920, a history of the Black veterans of the First World War. In 1993, his campaign for stronger historical recognition of the battalion led to the construction of a commemorative cairn at Pictou, Nova Scotia.
Many of those listed above have passed on to glory, and some are still with us, thanks to the Creator. Equally, I had the opportunity to speak to thirteen African Nova Scotians currently in uniform.
The CAF and its long history of anti-Black racism
Most of the individuals I have spoken with over a 50 year period spoke about the many racial injustices, unfair treatment and challenges they endured.
In the past many African Nova Scotians were turned away from attempting to enlist in the Canadian Armed Forces due to racism.
From days gone by to the present African Nova Scotians have joined the military trying to make a difference and to gain the respect by putting themselves in harm's way.
For example, at the beginning of the 1st World War eighteen men from the small Community of Lincolnville in Guysborough County, Nova Scotia (my community) joined the 2nd Construction Battalion in 1916, in an effort to improve their impoverished situation, to improve their economic situation and to prove their loyalty to Nova Scotia and Canada.
While most soldiers returned home as heroes with a parade in the capital city of Halifax to celebrate their return and their victory, African Nova Scotians were not allowed to participate and recognition only came decades later.
African Nova Scotians/Canadians also participated in the War of 1812 and in colonial militias before confederation. William Hall, an African Nova Scotian became the first African Nova Scotian and the third Canadian to be awarded the Victoria Cross in 1859, as part of the 2nd Construction Battalion during the 1st World War.
The immense sacrifices of African Nova Scotians are hardly recognized and or appreciated.
If the sacrifices made by African Nova Scotians / Canadians were truly appreciated and respected, the Somalia Affair may never have happened.
The Somalia Affair had all the elements of a made for television movie – drama, white supremacy, racism, cover ups, scandal, court battles and of course murder. It was the biggest Canadian military scandal of its day.
What started out as a humanitarian mission quickly became a dehumanizing display of hate and injustice within the Canadian Airborne Regiment.
In 1992, the Canadian Airborne Regiment landed in Somalia and in March of 1993, two Somalis are shot by sentries. It was said they were trying to infiltrate the Canadian base came. One of the Somalis is fatally shot. Also in 1993, 16-year-old Somalian Shidane Arone is brutally beaten and tortured to death by a number of soldiers in the Canadian Airborne Regiment.
One of the men arrested, Master Cpl. Clayton Marchee is found hanging in his cell in Somalia. He was said to have suffered brain damage and was declared to be unfit to stand trial. Two months later in 1993, the first charges are laid against eight soldiers of the Airborne Regiment in the cruel and painful death of Arone. One year later in 1994, Pte. Elvin Brown is sentenced to five years for manslaughter and torture in the death of Shidane Arone.
In January 1995, the Canadian Minister of Defence at that time, David Collenette, announced he was disbanding the Airborne Regiment. This only came because there were several videotapes showing soldiers making racist and hate comments as apart of brutal hazing rituals.
In March of that same year, Collenette appoints a civilian inquiry into the Somalia mission. Several days later, Canadian Information Commissioner John Grace stated that senior military officers deliberately altered documents related to the Somalia affair before releasing them. And on April 1, 1996, the Somalia inquiry revealed that computer logs and documents supplied by the Defence Department had been tampered with in order to stop crucial information regarding what happened in Somalia from getting out.
Lionel Desmond, a case in point
Lionel was a member of the Canadian Armed Forces and served in Afghanistan in 2007 with the 2nd battalion Royal Canadian Regiment's India company. That tour of duty was said to be the most bloody of the Canadian Military's combat mission with many many casualties as a result of the gruesome guerrilla campaign of the Taliban. "They have weaponized hate."
While growing up, and long before Lionel Desmond entered the CAF, he was a nice individual, who liked to joke around and showed much love and respect for his family, his community and his friends. He also showed much respect for his elders. After the murder-suicide many close family members, relatives, friends and former colleagues stated Lionel went to Afghanistan as one person and returned a very different person.
Lionel was diagnosed with Post Traumatic Stress Disorder (PTSD) and for some ten years he sought help for this. He even spent months at a rehabilitation centre in Montreal before his death. Yet the mental health system and the CAF seem to have failed him.
As most are aware, Post Traumatic Stress Disorder (PTSD) is a mental health condition that is most often triggered by a terrifying event — either experiencing it or witnessing it. Symptoms may include flashbacks, nightmares, panic attacks, thought of suicide and severe anxiety, as well as uncontrollable thoughts about the event itself.
Most individuals suffering from PTSD have difficulty adjusting and coping but will recover over time, with good self-care, treatment and mental health care. Yet symptoms can become worse and last for years, interfering with one's quality of life. This is why immediate mental health treatment and services are so important.
Racist slurs and a fight
In Lionel Desmond's case racism has emerged as a parallel narrative in the discussion over PTSD. Many family members, friends and others who have served in the CAF believe he also suffered from Post Traumatic Slavery Disorder, the legacy of enduring iInjury and pain activated and exacerbated by ongoing incidents of racism and the resulting trauma.
This is what his brother-in-law, best friend, and current member of the CAF, Sheldon Borden says.
"I know while Lionel was in the Canadian Armed Forces he faced racial discrimination and racist comments/treatment from his peers. While living with Lionel, I would witness him coming home from work and saying 'those racist bastards' on a weekly basis. At first it seemed as though he was irritated by the racism but his comments became more and more extreme as though he was really upset with the constant racism, expressing that he was going to 'Kill them bastards' if they came near him."
"There was one particular incident that stands out," says Borden. "Three guys that had been harassing him jumped Lionel in the men's locker room and used racial slurs such as "chocolate milk" in reference to his wife (my sister Shanna). Lionel ended up successfully defending himself against the aggressors and ended up going to summary trial in response to the attack. There would definitely be records of that summary trial if we looked into it."
Equally, based on many conversations with family and friends of Lionel Desmond, it is clear that Lionel was subjected to much racism during his time in the Canadian Armed Forces.
For example, there is the testimony of Rubin (Rocky) A. Coward, CD, community advocate and a retired Senior Non-Commissioned Officer in the Canadian Air Force (CAF). He is also the principal plaintiff in the class action we will discuss further on.
Mr. Coward states, "while I acknowledge and accept that Lionel had PTSD, in my humble opinion and, given all of my own experiences within the rank-and-file of the CAF, I believe that the PTSD Lionel occasioned was of a racist nature – and, racism is trauma. How each of us deals with it remains to be seen; moreover, it is wholly contingent upon the severity of both the trauma and the level of PTSD sustained. I simply don't want it to be said that Lionel merely had PTSD and, it was only attributable to action he seen. Racism is an action we see as well."
Mr. Coward shared with me many many incidents of anti-Black racism and racial abuse he faced while serving in the Canadian Armed Forces, so much that I am unable to include his two thousand words here, however it is fair to say that Mr. Coward endured much and continues to battle.
Another example of the blatant racism is that of Mr. Wally Fowler, a Canadian veteran of the CAF. Mr. Fowler has written a book detailing his experiences fighting systemic racism in the Forces and with National Defence.
Mr. Fowler states  that "when he enlisted in the Canadian Forces, he wanted two things: to provide for his family and to serve his country. He expected to be challenged and pushed hard to succeed; he never expected to encounter racism in the ranks. 
At CFB Borden, Esquimalt, and Trenton, Wally was met with harassment and discrimination, but the worst abuse came afterwards when National Defence blamed him the victim. Due to constant racism Fowler's career was short, lasting from 2000 – 2003, but at every posting he encountered racial harassments and discrimination. His superiors at Borden force-marched him until he had to be carried to the base hospital; denied him food and proper clothing on exercise, prompting a medical officer to initiate an investigation.  
At Esquimalt, the Fowler family faced racism within the military community: denial of service at the Base store; verbal abuse; the children were harassed by employees of their school and denied lunch and put off busses; their mother was subjected to racial slurs and had a banana thrown at her.
The abuse became so severe that the Base Commander fought to have the Fowlers relocated for their safety. Mr. Fowler says that opposing the move, National Defence accused Wally of fabricating the events and suggested he should resign.
When Fowler fought for and obtained a new posting, he wound up in Trenton reporting to the very same Chief Warrant Officer who wanted him out, and who had just been moved from DND HQ.
The Fowlers again experienced harassment within the base community, and now Wally was harassed at work. His superiors tracked his every move on and off base.  He was singled out for the worst jobs, or sent on errands and reprimanded for going. The Trenton Base Harassment Officer was ordered not to communicate with Fowler. Wally was escorted by his sergeant to "meet another Black" and learn there was no racism in Trenton.  
When Fowler complained, he wound up posted alone to a basement for months and assigned no duties. Wally Fowler requested to be released from the Forces because of the continual harassment and out of fears for his family." On again, there are so many more acts of racism that Mr. Fowler endured, but unfortunately this space is limited. Suffice it to say his battle was and is a battle against hate.
His book "Checkmate" details Fowler's experience battling systemic racism within DND. The book details the harassment he and his family endured; names his abusers and their protectors; and makes public the evidence that the federal government says doesn't exist. For a decade and a half, the Canadian Government has denied Wally Fowler was a victim of racism.
The above examples of racism, hate and gross intolerance supports the premise that Lionel Desmond most likely faced much racism in the CAF and therefore it is an inescapable, logical and reasonable conclusion that he suffered from PTSD and Post Traumatic Slavery Disorder (PTSD2).
I strongly believe the CAF, Veterans Affairs and the Mental Health Services failed Lionel Desmond, but the story does not stop there. The Borden family, the family of Lionel's wife and daughter has never been given due consideration for their pain and suffering.
For example, they are literally trapped in the house where the tragedy took place, with pain, panic attacks and anxiety triggers all around them.
To say the Canadian Armed Forces is innocent in this case is a form of blindness.
Furthermore, Lionel Desmond with PTSD and PTSD2 should not be criminalized because in the greater scheme of things, if the criminal justice worked for all people he would be found not criminally responsible because of his mental disorder.
Equally, for some uninformed and unaware of Lionel's relationships to suggest a narrative of domestic violence is a generalization and stereotyping of African Nova Scotian males that borders on racism in itself.
As far as I am aware, based on conversations with family and friends Lionel did not have a history of any domestic abuse. Will those naïve individuals go back and look at the case of Thomas Welch, a private with the 3rd Battalion of the Royal Canadian Regiment in Petawawa, who he ended his own life at the age of 22 in 2004, only months after returning from Afghanistan. I think not!
Most of the individual African Nova Scotians members of the CAF past and present that I had a conversation with say," officers of the CAF wouldn't call you by your name with respect, they would just say, 'hey boy', to avoid calling you nigger". Equally, they express that African Canadian soldiers were more likely to face disciplinary action than white soldiers and for less serious offences.
Currently, there is a fatality inquiry into the Lionel Desmond tragedy. This inquiry will probe many aspects of the support systems available to Lionel Desmond before his death, including whether he had access to mental health services, whether he should have been able to obtain a firearms license, and whether health care providers who treated him were trained to recognize occupational stress injuries.
The elephant in the room here is racism, and unfortunately this most likely will not be included. Unlike a public inquiry, which traditionally can make findings of legal responsibility, a fatality inquiry ends with recommendations contained in a report. I strongly believe one of the recommendations should be to hold a "public inquiry."
Hopefully, Justice Warren Zimmer will examine why the CAF prepares soldiers for battle but fails to prepare them for life as a civilian after being a soldier when they come home.
Equally, if the elephant in the room "racism" ever comes up hopefully again Justice Zimmer recommends that the CAF develop an anti racism policy. If one exists surely it is gathering dust based on inaction, likely it needs more teeth.
Many African Nova Scotians have concerns that white supremacy, with the racially charged climate that exists in Canada and North American, impacts how African Canadians are treated in the military.
Like most organizations the military simply reflects what is happening in the larger society, especially when there is little or nothing done to combat racism and anti-Black racism. The lack of a true crackdown on racism, suggest it is open season without consequences.
The least expensive way to treat mental illness is to avoid the issue, hoping that it will go away somehow. But avoiding mental health issues ensures things will only get worse. The powers-that-be in this society seems to be exploring and finding cheaper and cheaper solutions to mortal wounds that require extensive treatment instead.
In closing, I realize there is so much more to say, but the reality is Lionel Desmond's life mattered, he was loved and he loved, he was valued and he gave of himself to help this country and indeed the world.
"To deny people their human rights is to challenge their very humanity" –  Nelson Mandela
With a special thanks to our generous donors who make publication of the Nova Scotia Advocate possible.
Subscribe to the Nova Scotia Advocate weekly digest and never miss an article again. It's free!