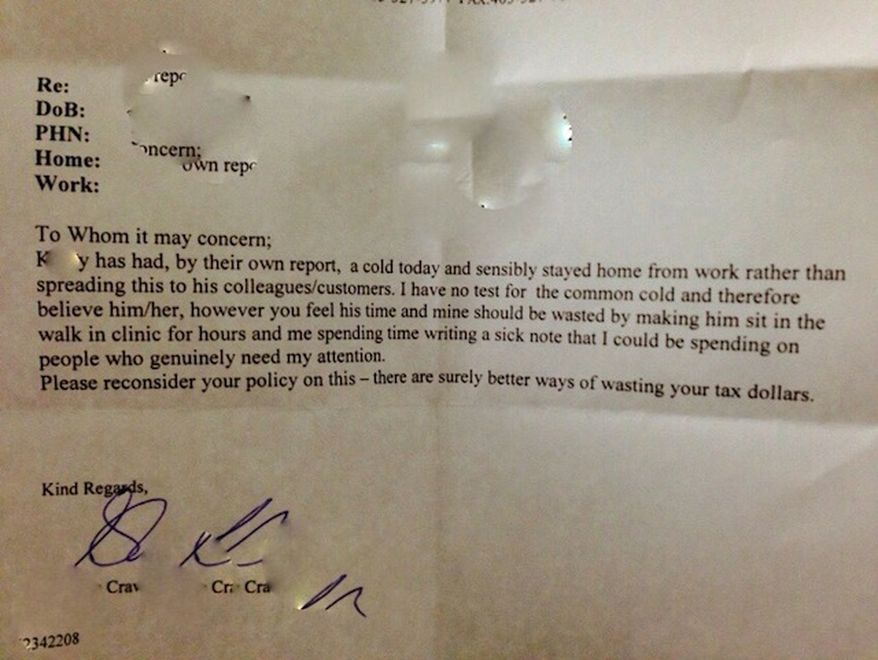 KJIPUKTUK (Halifax) – Almost everyone would agree that staying home when you are sick is reasonable action by a worker. Staying home when you are sick is a proactive move to keep that illness from infecting others in the workplace. In times of a pandemic, staying home when you are sick is a matter of public health. The question is: why employers would distrust an employee to obtain a sick note from a doctor, a cost borne by the taxpayer.
That is not a public responsibility, and employers must pay for that if and when it's requested. In many cases, the worker does not even have paid sick leave, so they miss work because they are sick and don't get paid. The employer forces them to leave the house, go to the doctor, clinic or emergency room and expose others. Workers should be home resting up, so they can get better and return to work.
Workers do not need the added stress of getting a sick note, often they need to pay for that, and many workers do not even have a doctor and face the added burden of losing their job if they don't get a note. Have you heard there is a doctor shortage in our province? A complete waste of time for our doctors. Shame on the employers who burden our health care system because they do not trust their adult workers like they are some sort of cheater and often are without pay.
Remember, we do not have paid sick days in Nova Scotia. Thousands of workers and families in Nova Scotia without a doctor will head to the emergency rooms. One day the government and Department of Health tells people to stay away from crowded emergency rooms and, on the other hand, will not enact legislation to eliminate the requirement of sick notes.
Allowing employers to require sick notes is unnecessary and wastes healthcare resources. When sick, workers avoid spending the time and costs of getting a sick note and instead go to work sick, where their co-workers, customers, and the public is put at risk. According to a national poll, 82% of Canadians would rather go to work sick than get a sick note. Workers going to work sick is dangerous for workplaces like food services, health care, personal support workers, and home care workers, to name a few. Imagine going to get food, and the server is sick, the cook is sick.
Health care workers often travel through the communities providing home care. The mental well-being of workers is also real. We must ensure workers can stay home when they are sick, that they get paid sick days with no required sick notes – a serious matter this day and age.
Sick notes are a weight for a healthcare system that is already under pressure. The relationship between you and your doctor is an important one. Doctors are not an instrument for the employer to use at its whim at taxpayer costs.
Most of the time, when a worker needs a sick note, they do not need medical attention. The Canadian Medical Society has opposed sick notes for minor illnesses for years. In 2007, Doctors Nova Scotia provided a template letter for physicians to send to employers, asking them to stop requiring sick notes and invoicing companies for the notes' cost. The Canadian Medical Association has called sick notes a" public health risk" and launched a national" Say No to Sick Note" campaign. Most recently, the Canadian Association of Emergency Physicians has also committed to advocating for" a ban on sick note requirements by employers via federal or provincial legislation.
In Nova Scotia, during the Pandemic, the provincial government has prohibited employers from requiring sick notes for unpaid leave for reasons related to COVID-19. This can be easily moved from a temporary measure under COVID to a permanent requirement in Labour Standards. Fixing that by law and including paid sick days for workers will ensure no pay disruption for workers to stay home when sick.
Here is a link to the Doctors Nova Scotia letter to employers back in 2007: https://doctorsns.com/contract-and-support/medical-sick-notes
See also: Lisa Cameron: In Nova Scotia employers can demand sick notes for no good reason
Danny Cavanagh is president of the Nova Scotia Federation of Labour