KJIPUKTUK (Halifax) – Last week journalist Stephen Wentzell sat down with Gary Burrill, the leader of the provincial NDP, to have a wide-ranging conversation about issues dear to the Nova Scotia Advocate's heart, things like the climate crisis and the threat to biodiversity, the sale of Owls Head Provincial Park, poverty and social assistance, housing and rent control, healthcare and many other issues.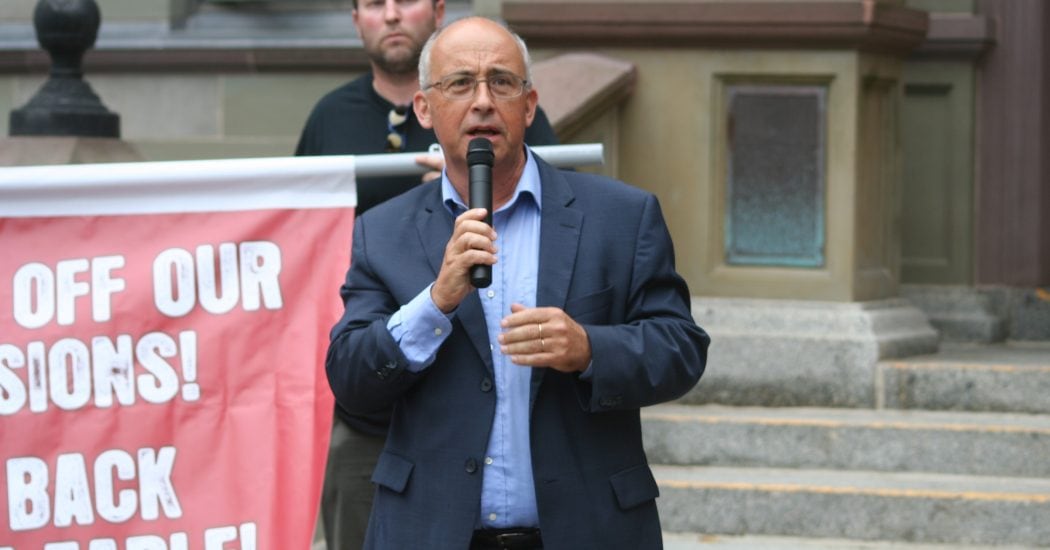 WENTZELL: We're going to start off by talking about the climate crisis. If you were premier, how would your party focus on the climate crisis that we're experiencing right now?
BURRILL: In a moment of such urgency, when we think of the wildfires in B.C., so much of Canada is experiencing unprecedented heat and drought, the first thing we can do is adopt a greenhouse gas emissions reduction commitment that is actually consistent with the goal of containing roughly 1.5 degrees within the next nine years. Our current legislative GHG reductions target falls short of that (53% below 2005 emissions by 2030).
Our target is actually consistent with the 1.5 degree, 2030 Declaration of 50% below 1990 levels by 2030. The key point is that we have to begin with a framework that legislates that Nova Scotia is doing its part the world requires us to do to address the emergency. That's first.
Secondly, we have to move towards renewables in a way that reflects the same sense of urgency. Our sense is that we need to be committed as a province to getting to 90 per cent renewable electricity generation within the next nine years, and also within the next nine years, get to a place where we can phase out coal-fired power.
WENTZELL: When it comes to things like clearcutting or turning Owls Head Provincial Park into a golf course, can you talk about how your party would approach things like that?
BURRILL: I think Owls Head is a telling issue. Iain Rankin came to the Liberal leadership talking about how for him, the most important thing was environment and the climate and wilderness protection. But we saw very clearly, very quickly, that this is actually just lip service.
They had hardly introduced their Biodiversity Act when the corporate forestry sector flexed its muscles, and said they opposed what they saw as an incursion of government regulation onto private land. The Rankin Liberals gutted the whole piece of legislation.
Similarly with Owl's Head, if a Premier really meant business about protection of the environment, he would have said we were in error when we secretly delisted Owls Head.
As we move towards greater levels of land protection in Nova Scotia, we need to take every piece of property that was on that 2013 Protected Land plan and include them under the umbrella of wilderness protection. They've continued on exactly the same path they were on before [Rankin] was premier, when he was the Environment Minister and when he was the Lands and Forest Minister, of that secret undercover delisting and taking Owls Head away from the people of Nova Scotia. I think there is a thinness and hypocrisy that the Rankin Liberals claim to be concerned about the environment. I think they're concerned about sound bites and press releases about the environment.
When we look at what's actually happening, their greenhouse gas emissions reduction target, which falls short of our obligations to global warming and 1.5 degrees, their biodiversity act, which they completely abandoned, that actually that the NDP is the only party supporting it in the legislature in its original form, or their delisting of Owl's Head. I think when you put all of this together, and what the evidence points to is that there is insincerity and hypocrisy about what the Rankin Liberals have to say in their presentation of themselves about the environment.
WENTZELL: I'm going to ask you a question about housing. As you know, that's one of the most pertinent issues affecting a lot of us across the province. What would your party do to combat this growing housing crisis that stretches from skyrocketing rents to renovictions and rental units being sold, to what we're seeing with Halifax removing crisis shelters. Can you talk about how you'd approach housing?
BURRILL: In immediate and short order, if we win the upcoming election, we will institute permanent rent control. Rent control is a form of regulation that is enjoyed by a majority of citizens. There is no reason why the protection from dramatic unsubstantiated rent increases should not be provided to the people of Nova Scotia. In 2020, hundreds and thousands of people were getting notices for rent increases in Nova Scotia in the amounts of $200, $300, $400, $500 per month, which they were not going to be able to pay. People were shaken by this, deeply upset by this, and in fear. Then the government, under pressure from housing advocates, from the NDP and some other supporters, in November, they instituted that temporary rent control. There was an enormous sigh of relief heard across the province that landlords would not be able to increase the rent more than two per cent.
If the government lifts the temporary rent control when the state of emergency ends, which is now coming into view and as it is slated to do, all those people are going to be receiving those same notices, and they're going to be back in the same position of being forced out of their homes. Immediate and permanent rent control is what's needed in order to allow those people to be in a tenable situation.
We brought forward a piece of legislation which we would make law if we become government, which is called "The Housing as a Human Right Act." It mandates that the government make the provision of housing and the allocation of resources for the provision of housing an object of consistent focus and priority so that the government will invest in social housing cooperatives, housing nonprofit housing, affordable housing in general, and become a serious player in the development of housing in the province. It also establishes a framework in which the Nova Scotia government must set guidelines to be aligned with Canada's U.N. obligations, in which we have agreed to eliminate homelessness by 2030. We allocate the resources, we set up the benchmarks, we set up the timelines, and we accomplish that goal.
WENTZELL: One in four children in Nova Scotia are currently living in poverty. How would your party try to tackle that?
BURRILL: We would tackle it and we would make Nova Scotia the first jurisdiction in North America where poverty is done away with. People need to realize that this is an entirely accomplishable goal.
The minimum wage needs to be $15 an hour on the road towards a livable wage. We need to have permanent rent control and a dramatic increase in the number of affordable housing units in the province. We need to have childcare no longer costing every average household just short of $1,000 a month. We need universal school food programming. We need serious increases in the income assistance rates for those who are not able to make a living so that they are able to buy their groceries and sustain their lives.
All of these things are within the capacity of the government of the province, and all these things we would do, in the NDP. This would move us so far down the road to the abolition of poverty in Nova Scotia, that the goal would quickly be in sight.
WENTZELL: Income assistance has gone up $100 since Iain Rankin became Premier. What kind of adjustments or improvements would you make to the income assistance program?
BURRILL: income assistance needs to be enough so that in non-emergency situations, people are actually in a position where they can afford to buy their food, a position where they can afford to pay their rent. In a province that has the highest percentage of disabled persons anywhere in the country, this has a very significant impact on our society and our economy. We are committed to income assistance rates so that the person who is required to apply for assistance can be assured of the capacity to sustain their lives.
WENTZELL: We hit a record this month for the most people on a waitlist for a family doctor at almost 70,000 Nova Scotians. How would your party do things differently in trying to get that number as low as possible?
BURRILL: While this is a difficult and multifaceted problem, it is not an unsolvable problem. It requires a sense of focus and priority by the government of the province. Part of the reason we're in the difficulty we're in, with the doctor shortage and the lack of access to primary care, is that from the time the government came into power they made the object of their focus and priority the establishment of a centralized Nova Scotia health authority and doing away with the regional health authorities. This took so much of the energy and administrative oxygen out of healthcare administrations of Nova Scotia, that by the time that option was completed we were into a global primary care crisis and we've been there since. We can extend the provision of primary care of physician's assistants. These are people trained to carry out the routine work that doctors do in their offices thereby making it possible for the doctor to treat a wider scope of patients overall.
In Nova Scotia, our use of physician's assistants amounts to a total of three people, a pilot program for three physician's assistants. In fact, we have lots of physician's assistants. It's just that they're not working in our healthcare system. Physician assistants are key to the quality of care in the Canadian Forces. There are many people in Nova Scotia who have this training and in fact are working in other parts of the country. An extended role for physician's assistants makes a major difference. I'm thinking of nurse practitioners, pharmacists, paramedics, graduate prepared clinicians, social workers, people in all these other categories, to make sure that all of them are in this situation where you're working toward the extended scope of practice.
WENTZELL: One of the McNeil Liberals' big boasts was having a surplus at the end of a budget year. COVID-19 has taken that right out the window. So if you became Premier, how would you approach the deficit?
BURRILL: This is an overarching question about what this election is actually about, what's going to happen next in Nova Scotia. The Rankin Liberals have made very clear that if they are elected the deficit situation which has been incurred through COVID is going to be reversed, and the budget will be balanced within four years. They say they will accomplish this by for instance cutting $209 billion in the new year immediately after the election.
Now, in my view, this is fiscal folly. There is a reason why some of the most fiscally conservative jurisdictions in the country, like Ontario, Saskatchewan, and Quebec, are projecting coming out of the deficit associated with COVID over six, seven, nine years. You cannot make the kinds of cuts in spending that are required in order to reestablish budget balance in a very short timeline without doing major damage to society, to the education system, to the health care system, and to the province as a whole.
What we're saying is that reestablishing the balance needs to take place over a much longer period of time, so that we have the means to respond to the great real needs in people's real lives that have come to the surface particularly throughout the course of the pandemic. I'm thinking about, for example, mental health. We must make the investments that are required to get us in a position that people are in, in New Brunswick, PEI, and Newfoundland, that a person who needs help with their mental health issue can be seen in a walk-in mental health clinic today or tomorrow.
We can't do this if we take $209 million out of our budget next year. Through the pandemic we've seen that there are major investments needed by the province in childcare, that the pandemic made very clear how essential childcare is to our economy and our society. Similarly with long-term care, we know from our experience from the pandemic that there are not enough people working on the floors to provide the level of care as needed. We know what needs to be done is to significantly improve the ratio of staff to patients in Nova Scotia. So, these are two dramatically different paths.
WENTZELL: Congratulations on running a slate of candidates that consists more than half of women or gender non-conforming, non-binary-identifying folks.
BURRILL: It's the New Democratic Party look. I am so excited that we have had, since the 2017 election, the highest percentage of women with official party status in all of Canadian history in any province. It's no surprise that the same party is also the party which is about to bring forward the first provincewide gender-balanced slate in Nova Scotia. I am just thrilled to be associated with these great accomplishments and to be a part of them.
WENTZELL: My final question to you, maybe a common one for your party. What would you say to folks who may be prospective NDP voters but might feel pressured to strategically vote either Liberal or Conservative?
BURRILL: I think people should take a look at what the NDP has accomplished to improve people's real lives in Nova Scotia with a five-seat MLA opposition. For instance, we fought for, and played a significant role in the ban on evictions, and last fall, in bringing in rent control in its temporary form. We fought continually from before the pandemic for a program of paid sick days. After years of saying that they opposed paid sick days, we pressured the Rankin government into bringing in a temporary program of paid sick leave. All this, we did with five of the 51 members of the legislature. Imagine what we can accomplish if at the election we're dealt a stronger hand.
This interview was lightly edited for clarity.
On Sunday the Nova Scotia NDP released its vision document outlining the party's plans for the foreseeable future. You can download it here.