KJIPUKTUK (Halifax) – Tenants living in a series of row houses in Spryfield have been dealing with a terrible mice infestation for two years now.
Typically, after tenants complain, their landlord will be prodded into some kind of half-hearted action. But it's never enough, and shortly after the problem flares up again, tenants say.
The tenants live on Lavender Walk in Spryfield, a community of row houses in Spryfield.
Their landlord?
It's the government.
The buildings are owned and managed by the Metropolitan Regional Housing Authority, a provincial government corporation, with the Minister of Community Services at the helm.
Pictures destroyed
This slideshow requires JavaScript.
Amy (not her real name), seems to live at the epicenter of the infestation. In a single month she caught about 50 mice.
"They are chewing the wiring, they chew the insulation on the hot water boiler, they ate the whole thing," Amy tells the Nova Scotia Advocate.
They leave mouse droppings and urine everywhere.
"Just recently, in the beginning of March I noticed my house was infested again," says Amy. "I wanted to clean out my storage room, and the mice had destroyed everything.
"Irreplaceable things, pictures of a child that is no longer with me. Her album full of pee. All my children's baby books. Everyone that knows me knows that is the most important thing in the world. I lost my pictures, and that's devastating to me."
Mice are on the kitchen counter, they come out of the washing machine, they totally destroyed a living room couch, Amy says.
Landlord not doing enough
Amy has been trying for years to get the problem resolved.
"They came the first time I complained, they replaced the baseboards around the heater, but they never filled in the holes," Amy says. "Another time they brought in pest control, they filled the cracks along the heaters with foam, but I still had issues, they were still coming through."
"I would go over and complain, and the response was always that they would send someone over, and that's all I'd ever hear, but nobody would ever come," she says.
Jodi Brown, who lives next door, has a similar experience.
The mice are everywhere, and to tackle the problem one rowhouse at the time just doesn't make sense, she says.
"Workers were in the attic last week, and there were tunnels in the insulation everywhere," she says. "The drywall between the units is crumbling, and you can see the attic next door. So the mice pretty well go wherever they want."
But when she wants the Housing Authority to sit down and develop a comprehensive plan of action she just encounters reluctance and pushback, Brown says.
"They just spray foam in it, and mice chew right through it. That makes no sense. And it doesn't make sense to tackle one house. And it doesn't make sense to spend two months on the job. That's not acceptable," says Brown.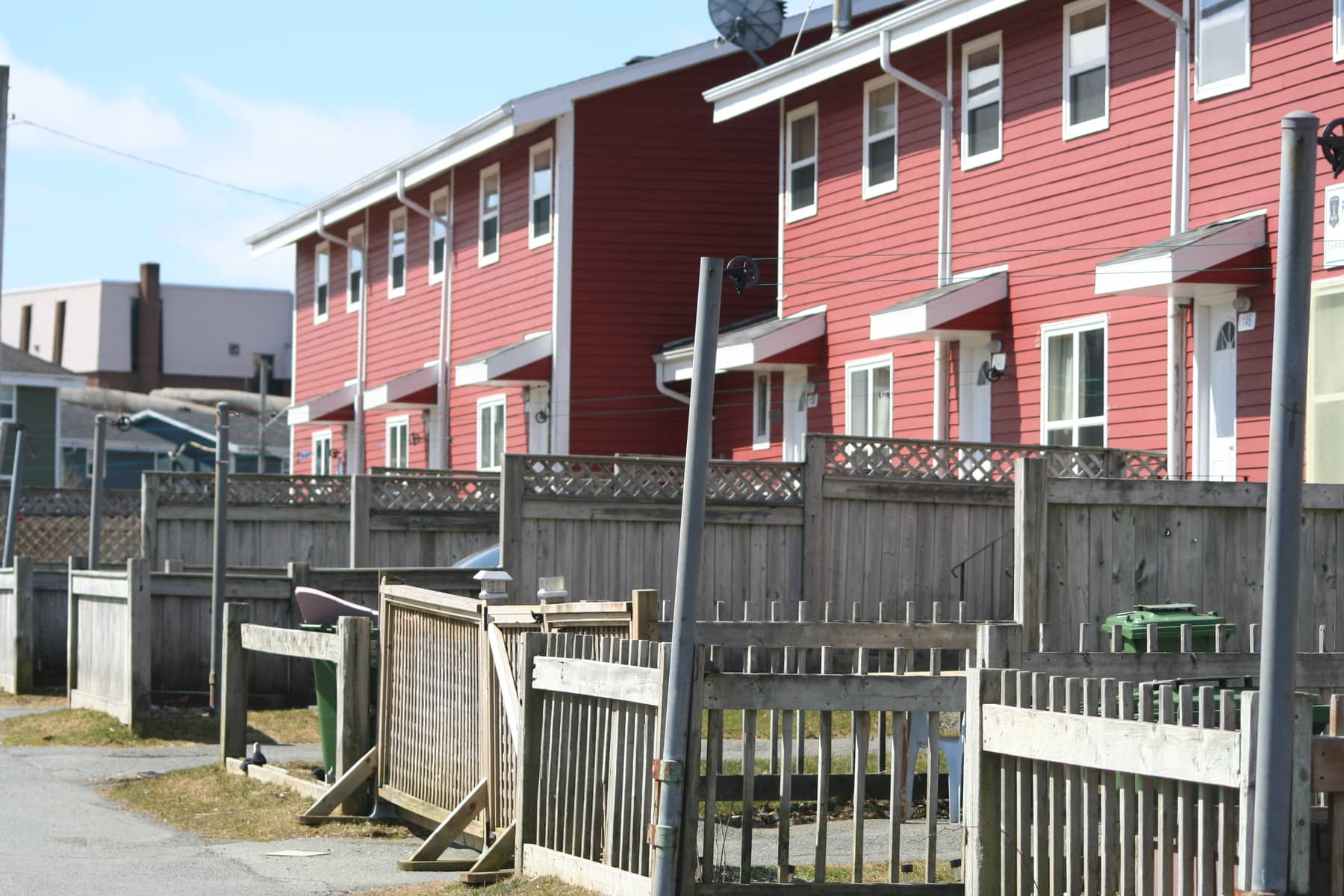 Asbestos, mouse droppings and urine
There is something else that worries the tenants. Asbestos.
"When we moved in we signed papers saying that we are aware that there could be asbestos in the walls," Amy says. " And we were told that if we put anything in the wall we have to wet it first, and for anything that has to be fixed (The Housing Authority) has to come over and do it because it's dangerous."
So exposed inner walls and mice chewing away adds to the anxiety.
There is also the smell of dead mice in the walls.
And droppings.
Amy as a rule mops the floor more than once a day to make sure her kids aren't affected by urine and droppings left behind by mice.
When she doesn't her daughter break out in bad rashes.
Community Services believes that the infestation only affects three units and is well under control.
"When this issue came to our attention, we took immediate action," writes Heather Fairbairn, spokesperson for the department.
"Over the past several weeks, pest control specialists have been working to inspect each of the three units and taking the action needed to eliminate the pests. This includes checking the attic insulation and crawl spaces, placing rodent traps both inside and under each of the units, as well as sealing any holes or potential points of entry.
"The last of units is scheduled for inspection and treatment on April 5," writes Fairbairn.
This contradicts the tenants' assertion that the problem is widespread among Lavender Walk residents and has been flaring up for years.
When the Nova Scotia Advocate visited the apartments on Monday several holes were unsealed.
"You shouldn't have to live like this," Amy says.
Photos of interior contributed
Note: On Thursday April 7th Metro Regional Housing Authority tenants will hold a rally to demand better living conditions.