KJIPUKTUK (Halifax) – The practice of applying glyphosate, a chemical herbicide used to eliminate hardwood from forests, is alive and well in Nova Scotia.
In 2010 the Department of Natural Resources (DNR) decided to stop spraying the herbicide on Crown Lands, and to also halt subsidies to private companies in support of their own herbicide programs.
However, substantial spraying programs on privately-held woodlands continue. And DNR does not rule out resuming the subsidies program sometime in the future.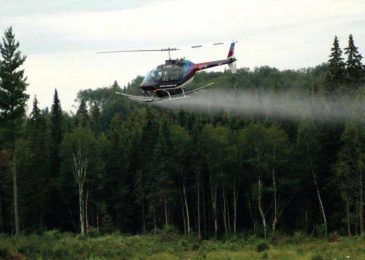 Many Nova Scotians are concerned about glyphosate. The World Health Organization has classified the chemical as a probable human carcinogen. Critics also argue that spraying Nova Scotia's  forests with glyphosate negatively affects its ecological diversity and resilience.
Data published on the National Forestry Database website show that comparatively little spraying occurred on Crown Lands prior to the 2010 ban. Between 2001 and 2010 the herbicide was applied to 3,315 acres of Crown Lands.
During the same time 85,070 acres of privately held lands were treated with glyphosate. That's the size of Point Pleasant Park 450 times over.
After 2010, when subsidies ended, things slowed down a bit. But not all that much. Between 2011 and 2014, the last year for which data is available, forestry companies treated 17,946 acres of private woodlands. Recently Northern Pulp submitted an application to spray woodland in Colchester and HRM
When asked point blank, DNR's commitment to no longer subsidize companies in support of their spraying efforts seems to waver.
"The department is developing tools that help ensure that all forestry practices are science-based and aligned with an ecosystem-based management approach," writes DNR spokesperson Brian Taylor.
"We will continue to assess the appropriateness of various forestry treatments, including herbicide, as we move toward landscape scale planning."
\
See also: DNR drops acclaimed forestry certification program in Western Nova Scotia