KJIPUKTUK (Halifax) – Whereas cities like Toronto and Vancouver have increasingly more high income and low income neighborhoods, Halifax neighborhoods remain less polarized. But we do see several neighborhoods here that where residents are very poor, and others that are trending downward.  
That is one of the conclusions of a new report, Halifax, a city of 'hotspots' of income inequality. The report is issued by the Neighbourhood Change Research Partnership, the Perceptions of Change Project, and United Way Halifax.   
Since 1980 much of Dartmouth North, suburban Dartmouth and Spryfield has transitioned from middle-income to low-income areas. Similar patterns are observed in older parts of Clayton Park along the Bedford Highway, census tracts around Saint Mary's University, and parts of the municipality's 'rural east.'
Other downward trending areas are located in Fairview, the Prestons, and the area around the Woodside Ferry Terminal. This downward movement accelerated during the nineties when austerity was particularly severe.
Neighbourhoods that are trending up, those experiencing increases in their average income between 1980 and 2015, are located in downtown Dartmouth, suburban Dartmouth, the North End and the South End as well as new off-peninsula developments in the western part of HRM such as Tantallon along Highway 103.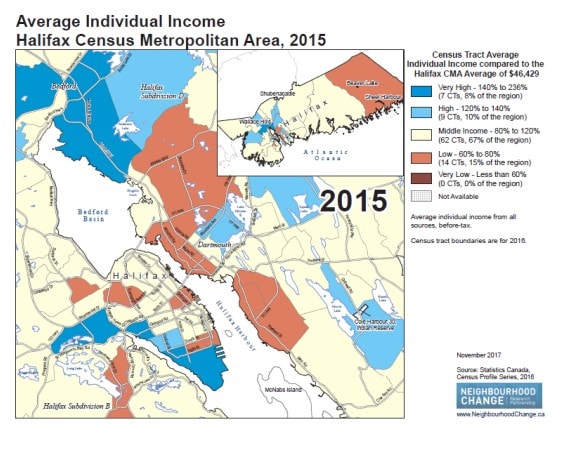 A low income neighborhood is defined as having incomes 20% lower than the average income in HRM, whereas high income neighborhoods are 20% above the HRM average.
Dartmouth North is HRM's poorest neighborhood, with and average income 47% below HRM's overall average. Fairview is 37% below average, Spryfield is at 34% below, and the Preston area is at 27% below.
Dartmouth North, Spryfield and Fairview also have a higher percentage of renters, compared to overall HRM numbers, ranging from 14% more in Spryfield to 42% more in Dartmouth North.
See also: Where the poor people live. Stats Canada puts Nova Scotia poverty on the map
---
If you can, please support the Nova Scotia Advocate so that it can continue to cover issues such as poverty, racism, exclusion, workers' rights and the environment in Nova Scotia. A pay wall is not an option, since it would exclude many readers who don't have any disposable income at all. We rely entirely on one-time donations and a tiny but mighty group of dedicated monthly sustainers.