KJIPUKTUK (Halifax) – Nova Scotia could use a couple more journalists of Joan Baxter's calibre.
Baxter's excellent book on Northern Pulp and its predecessors exposes 50 years of corporate lies, environmental racism, and a mostly captured government bureaucracy and political class. I am sure that people wouldn't be scrutinizing the current goings on at Northern Pulp to the extent they are if it weren't for her book.
See also: Book review: Joan Baxter's the Mill – Fifty years of pulp and protest
For decades Baxter lived and practised journalism in African countries such as Niger, Cameroon, Sierra Leone, Mali, Ghana, Kenya, witnessing coups, violence, and the relentless IMF and World Bank-aided plunder of the continent's resources by western corporations.  She also lived in Burkina Faso while it was governed by revolutionary leader Thomas Sankara, whose ideas and government style helped shape Baxter's worldview. She left that country for Ghana in 1987 after Sankara was assassinated during a right wing coup.
Now she's returned to Nova Scotia. These days she writes for the Halifax Examiner, doing deep dives into the unsavoury practices of the mining sector in Nova Scotia.
We talked to Joan about bringing her African experience to Nova Scotia, what's good and not so good about journalism in Nova Scotia, the dangers of too much skepticism, the walls governments build around information, why give up your weekend to sit behind a computer, and much more.
"That's the very long story about how I got to be old and cranky," Baxter said.
This interview is the third in a series. There will be more interviews on the state of journalism in Nova Scotia all through the summer.
---
To what extent has your journalistic practice been shaped by your African experience?
I always feel a deep seated anger at the exploitation of Africans and African resources, by Western countries. I'm talking about Canadian, Australian and South African gold mining companies, diamond mining companies. What I saw in Sierra Leone was absolutely appalling.
After the financial crisis, in 2008 people with a lot of money to invest were looking for a place to park all their ill-gotten capital. They started doing large scale farm land acquisition all over Africa, taking it right out from under the people who depended on it for their livelihoods, but who don't hold formal title because there is a traditional land tenure.
I was furious, but my fury was not directed towards the local politicians, because they are essentially instruments in this huge neoliberal disaster capitalism system that we live in. But I was also inspired so much by the local wisdom, how people can cope with these things with such amazing forgiveness and humor.
When I came back to Canada, I realized that what we have here is basically the same system. I saw what the World Bank called structural adjustment back in the 1980s, meaning cutbacks on all social services, privatizing everything. It's all on a spectrum.
For instance, some of the people involved in Megumagold Corp in Nova Scotia are the same Canadians who earlier were involved in West Africa, especially in Burkina Faso and Mali. Now, because of the insecurity over there, they're just looking to do the same thing here.
Ironically, those African countries actually demand more from the mining companies than we do here in Nova Scotia. African nations have higher royalty rates, and they demand that a certain share of the company is in the hands of the government. So in a certain way, these companies come back here and they get an even better deal. Plus, they've got the security that they wouldn't have in Africa. And they've got better infrastructure that they can use and abuse here.
What were some of the differences between doing journalism in Western Africa and Nova Scotia?
I hadn't done journalism in Canada, since I was a journalism student and I worked a bit at the CBC in Halifax. It was an entirely different era. When I was working on my book about Northern Pulp, I assumed it was going to be the way it had been for me before I left Canada in the 1980s, or while I lived in those young democracies, or even non-democracies, in West Africa. That is, if I wanted to talk to a government official, or to a minister, or even a president, I would call them up. And I would get an interview. I could pose questions directly and get direct answers. 
The biggest shock for me has been this wall of media relations people that governments have thrown up in front of the media. I no longer have the right to speak to somebody who is actually capable of answering fairly technical or scientific questions. Now I deal with media relations people that never really answer your question.
Under Harper, we all talked about the fact that scientists were being muzzled. That was supposed to change (with the new federal government). But even very recently I requested several times that the federal department of Environment and Climate Change let me speak to a technical person or a scientist. And to this day I've never been able to do so.
I've also written so many cheques for Freedom of Information requests, and I have so many that are under appeal. That's been the biggest shock to me, how little access we have to information. I've been really railing against it, as you may have noticed, in recent articles, because it's something Canadians should be very upset about.
I'm also constantly amazed by the influence of paid lobbyists. If I were a journalism professor, I would probably hammer this one so much that kids will start leaving my class. Someone who's paid to say something, whether they believe it or not, should never, ever be afforded the same credibility as someone who is saying it because they actually mean it.
That's the very long story of how I got to be old and cranky.
What do you think of journalism that's happening here in Nova Scotia at this time?
I don't think we are short of good journalists at all. If journalists aren't able to do the investigative pieces, it's because their employers do not give them the time that they need.
Lately I have been looking at archived newspapers, such as the New Glasgow Evening News In the eighties it was a huge newspaper, and it had correspondents in every village along the North Shore. It really worries me is that these days there's a lack of really good local coverage that then gets spread around the province and around the country.
It also worries me that there's so many people who only read specific media, who are completely unaware of all the other things that are happening because their particular media didn't cover it.
I get very disappointed by the trivialization that I sometimes encounter in the mainstream media. Just this morning I think I heard six times on the CBC maritime news the top story of how a softball team from Newfoundland went to Moncton and stayed in an Airbnb that didn't have Wi Fi and air conditioning. It's really gone down to kind of very trivial stories, and also lots of fire engine chasing.
That's what I appreciate about the Cape Breton Spectator and the Halifax Examiner. There you are allowed space to really go into depth, because these issues are very complex. I think we need to go back to more long form journalism.
People are very skeptical of what they hear. But then when the public becomes too distrustful of everything that's coming out of official offices or corporations, then you get a swing to populism that we don't want.
When I wrote The Mill. I was just as shocked by what was in there as anybody who now reads it. But I want the reader to ask, how can we make our democracy better? How can we get our democracy back? How can we stop the corporate capture of our governments? I don't want people to throw democracy out, I want them to fight for democracy.
Final thoughts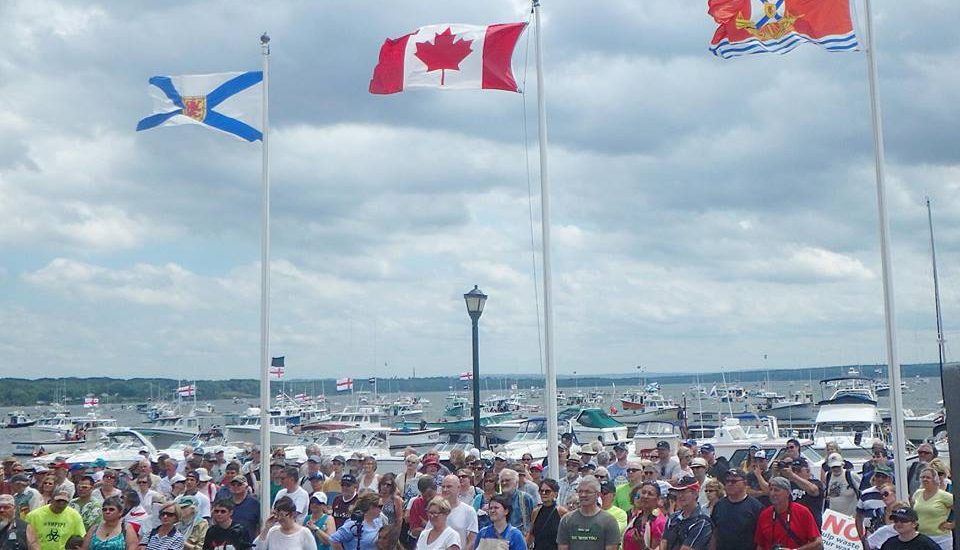 If I weren't an optimist, a pessimistic optimist, I wouldn't do the work I'm doing. I would sit back on a nice weekend like we just had, go to the beach instead of spending the whole weekend in front of my computer working on an article because I think people need to know something.
That optimism is fed by citizens all around Nova Scotia who love their communities and who are doing the work our government should be doing to protect the environment.
It's the energy of those people who basically give up much of their lives to take on these causes that never ceases to amaze me.
Check out Joan Baxter's website here.
See also: Mary Campbell of the Cape Breton Spectator: Of course I am going to have an opinion