KJIPUKTUK (Halifax) – At the 2019 FIN Atlantic International Film Festival, three new shorts were screened that were part of the National Film Board of Canada's Re-Imagining Nova Scotia series.
Alex Kronstein went to see all three of them, and here is his review of Gunkillers, written and directed by Jason Young, about the secret work that blacksmiths John and Nancy are sometimes called upon to undertake for the RCMP.
By far the most stylized of the three Re-Imagining Nova Scotia shorts, Gun Killers takes us to the East Dover home of retired blacksmiths John and Nancy Little.
We first see John and Nancy working in their vegetable garden, as well as some interesting art creations they have produced using their blacksmithing skills.
But as night falls, they receive a secret delivery from the RCMP: a trunk full of confiscated handguns.
With stunning slow-motion cinematography and accompanied by an avant-garde soundscape of sonoristic music and voiceover re-creations of 911 calls, we watch as John and Nancy destroy the guns using their blacksmithing tools and forge.
The juxtaposition of the fairly ordinary activity of gardening with something as extraordinary as destroying illegal guns is an incredible storytelling feat. It likely was a significant factor in the film's editor, Andrew MacCormack, winning Best Atlantic Editor at the 2019 FIN AIFF Awards.
The film closes with a powerful shot of John and Nancy posing for the camera together. Told without any interviews or narration, Gun Killers is a poetic portrait of two citizens with special skills to assist in Canada's gun control efforts.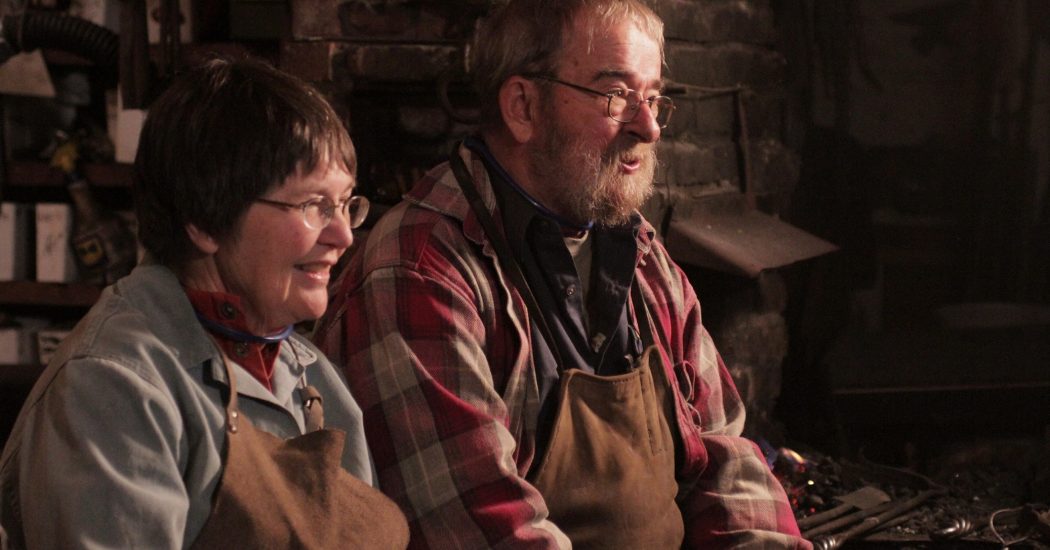 See also: Alex Kronstein reviews I am Skylar
Alex Kronstein is the founder of Autistics United Nova Scotia, the local chapter of Autistics United Canada, a grassroots organization committed to raising the voices of Autistic people.   He is also the host of the podcast The NeurodiveCast, and is a documentary filmmaker with several films currently in development.
With a special thanks to our generous donors who make publication of the Nova Scotia Advocate possible.
Subscribe to the Nova Scotia Advocate weekly digest and never miss an article again. It's free!