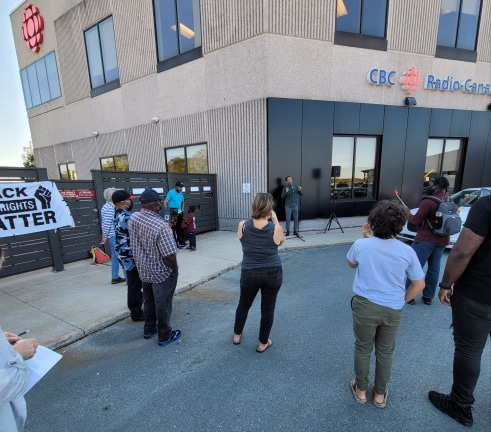 KJIPUKTUK (Halifax) – Did the media pull together to decide, or did each media outlet resolve on its own not to cover Friday afternoon's demonstration in front of the CBC's Halifax office?
Whatever the case, no media showed up when a group of 20 African-Nova Scotians and a few white supporters set up a sound system, played music and improvised a stage about 10 metres from the CBC's front door in West End Mall. Raymond Sheppard organizer of Black Voices Matter emailed nearly 20 members of the Halifax media – radio and TV –a media release earlier in the week which stated that
CBC's commitment to diversity and inclusion is lacking and systemic barriers remain
The CBC's television "project" (not a steady program) "Being Black in Canada" is very limited in scope and can be viewed only the GEM digital space, not the network
The CBC has no national programs hosted by, hosted for and dealing with African Canadian culture and heritage
George Boyd, an African-Nova Scotian, who was one of the first news anchors on CBC Newsworld from 1989 until the early '90s, was one of the only Black newsreaders on the national CBC. Since there are none today, it means Black rights at the CBC have gone backwards.
See also: Raymond Sheppard: Making room for African Canadians at the CBC
In the last four months, the CBC has increasingly come under attack by Black activists and their allies.
ITEM: in the August issue of Walrus Magazine, Pacinthe Mattar, a person of colour (POC) and former radio producer at the CBC in Toronto, wrote an article called "Objectivity is a Privilege Afforded to White Journalists". In it she warned, "under the banner of diversity, racialized people are told to bring ourselves and our perspectives, but if we bring too much of them we get held back."
In the article she gave a series of examples about how her (white) superiors believed she could not be objective about racism, how her facts were always challenged, how she was essentially hounded off the job as a senior producer.
ITEM: On Twitter, Angela Stirrit, an Indigenous journalist who also worked at the CBC wrote, "I face discrimination from some non-Indigenous people in your outlet the CBC, from the public and from Indigenous colleagues (lateral violence). I can't encourage Indigenous people to become journalists until I start to see more changes."
ITEM: In late May, after George Floyd was murdered by Minneapolis police in the US, the Canadian founder of Black Lives Matter, Sandy Hudson was asked to be a guest on the CBC's flagship program The Current. During the pre-interview, she was asked to talk about the murder of George Floyd and the racist incident by a white woman, Amy Cooper. You may remember she called the police on a Black man who was bird-watching in Central Park in New York City.
When Hudson suggested she'd also talk about the recent tragic death of Regis Korchinski Paquet—who fell from her 24 storey apartment in Toronto — the white producer told Hudson that the program was about "American racism"—there was no time for "Canadian issues" about racism.
Hudson reminded the producer that Amy Cooper, was in fact a Canadian—the CBC producer reiterated that they were only talking about racism in connection with the US.
To wind up the pre-interview, the producer asked Hudson "what's next… where do we go next'?
Hudson suggested defunding the police. And bear in mind – this was never debated publicly on the CBC or any other Canadian media outlet before the pre-interview that day. Hudson explained that 24% of Toronto's budget went to the police — more than fire, paramedics, libraries and public housing combined. Hudson said others – not the police– could provide valuable front-line services.
Shocked, the producer asked her "Did you say DEFUND THE POLICE??"
Hudson said yes. The next day – without being told why – Hudson's interview in its entirety was dropped from The Current. As Hudson noted wryly, "This is how journalists are complicit in the impacts of anti-Blackness. If I had said to the question 'what's next?' some shit like 'we hold hands and sing kumbaya and understand one another' I think I'd have been on the air this morning."
ITEM: In June, Wendy Mesley, a respected white CBC-TV presenter with her own news program The Weekly, was accused of using the N-word on at least two occasions in a editorial meeting and in a phone conversation. Black staff members she supervised heard her. After the CBC investigated, Mesley was suspended from hosting The Weekly and admitted, "I was carefree with my tongue and I was wrong to say it. Whatever my intention, I hurt people and for that, I am very sorry…." Mesley claimed her remarks were "not aimed at anyone."
Mesley had a 35-year career with the CBC, mostly as a star TV journalist. Black social critic and best-selling author Desmond Cole observed, Mesley's defensiveness reminded him that "Black folks have seen this movie before, and have memorized this script. We are all too familiar with appeals to innocence and good intentions, appeals that don't change the actual harms of racist actions and words."
Mesley's racist remarks are likely not the first time in 35 years she has used the N-word. But before Black colleagues complained, no white person paid the slightest bit of attention. It is a fact that Black people, POC and Indigenous people complain at the CBC at their own peril. Twitter is full of tweets by journalists of colour who have found themselves without a job after criticizing racial bias at the CBC. On Twitter one can read about at least one white boss at the CBC who refuses to call the racialized subordinate by their name, or confuses their names with others – despite having worked with them for months. A Black employee was labeled a "brown producer" to distinguish him from another producer.
ITEM: On June 1, just after George Floyd, Breonna Taylor, Regis Korchinski Paquet, were killed directly or (in the case of Paquet, indirectly) by police, the President and CEO of the CBC Catherine Tait wrote a memo to all the CBC's 4,800 plus employees
In the memo she writes about the CBC "shining a light on injustice," and upholding "the value of freedom and fairness we hold dear."
Tait also wrote "The suffering and injustice of racism, whatever form it takes – against whatever community – is an affront to everything we believe in… "
How tone deaf can any boss be? In response, a tweet from one CBC employee asked how Tait could give this whole solidarity message and "never mention the word Black once?"
Another employee tweeted "[Tait's is] an embarrassing and empty response, this from the leader of a corporation which has grossly mishandled coverage of this crisis and has been complicit in upholding systemic anti -Black racism in this country for a very long time. "
Another tweeted, "More Black people, people of colour, and Indigenous people in positions of leadership and power at the CBC would bring about a paradigm shift."
Tait ended her message with "we stand in solidarity. We will never remain silent." That is until August 18 when she (or some other CBC higher ups) silenced Duncan McCue, an Indigenous broadcaster and summer host of The Current, for using the word "Palestine" on air.
He was interviewing the famous cartoonist and comic book author Joe Sacco, whose books include graphic novels Palestine, and two earlier award-winning versions Palestine, a Nation Occupied and Palestine: In the Gaza Strip.
According to an article in Mondoweiss , "in his original exchange with Joe Sacco, McCue launched into his ill-fated question as follows: '… In so much of your work, context is key — whether it's Palestine, or whether it's Bosnia. …'"
At the behest of the notorious "…Honest Reporting Canada (HRC) the media-policing group with the Orwellian name — CBC's lightning act of self-censorship was a coup barely describable in words. CBC routinely asks programs to respond to complaints in twenty days, not in the space of a business day." The word Palestine was excised in the podcast and the taped version of the program within hours. Honest Reporting – a well known pro-Israel lobby group — had claimed that "Palestine Doesn't Exist" and that it was a "mythical state."
The very next day, McCue had to back-track on-air, "Yesterday, in my interview with Joe Sacco, I referred to the Palestinian territories as 'Palestine'. We apologize,"
So much for Tait and the CBC "standing in solidarity."
The CBC as a federally regulated body, has to turn in a yearly report on its hiring practices and promotion practices with regard to equity-seeking groups such as Blacks, Indigenous, and people of colour as well as those with disabilities.
But articles in major news outlets including the Toronto Star, the Walrus Magazine, Vice and others tell us a very different story. Black, indigenous and brown people are hired on "soft" money, on short-term contracts without long-term employment, or status or benefits. Recently the Canadian Media Guild, the union that represents CBC employees, noted that one quarter of CBC's staff are temporary or precarious workers, and many of them are people from "diverse backgrounds". The union demanded that the government pay to convert 50% of the temporary workers to full-time jobs.
Here in Atlantic Canada, until CBC Radio hired Portia Clark, there were no Black or racialized radio hosts on CBC radio or TV. There are still no on-air Black news anchors. This is what we are facing when we look at Canada's national tax-funded broadcaster.
Please note:   Portia Clark, the host of CBC Radio's Information Morning, did interview Raymond Sheppard before the protest on Friday, and played the interview today (Monday) on-air. 
Judy Haiven is on the steering committee of Equity Watch, an organization that fights discrimination, bullying and racism in the workplace.  Contact her at equitywatchns@gmail.com

With a special thanks to our generous donors who make publication of the Nova Scotia Advocate possible.
Subscribe to the Nova Scotia Advocate weekly digest and never miss an article again. It's free!