This slideshow requires JavaScript.
KJIPUKTUK (Halifax) – Close to 1000 people came together this Sunday afternoon at the Grand Parade in downtown Halifax in support of the beleaguered Mi'kmaq fishers along Nova Scotia's French Shore.
We've all seen the horrific images of angry mobs of white fishermen attacking and terrorizing Mi'kmaq fishers, torching their boats and vehicles, and destroying their traps, while stores in the area refuse to serve them and RCMP stand idly by. No wonder so many people refer to Nova Scotia as the Mississippi of the North.
Much like at Friday's treaty lobster sale, the people who came to the rally wanted to counteract these images, and send a message to the Mi'kmaq fishers that they are not forgotten, that we are all treaty people, and that they are not alone.
That message came through loud and clear.
"This is very emotional for us. When you wake up every morning and worry about your family, you will understand. But this crowd means the world. You are family, you are our brothers and sisters, thank you," one young woman told the crowd.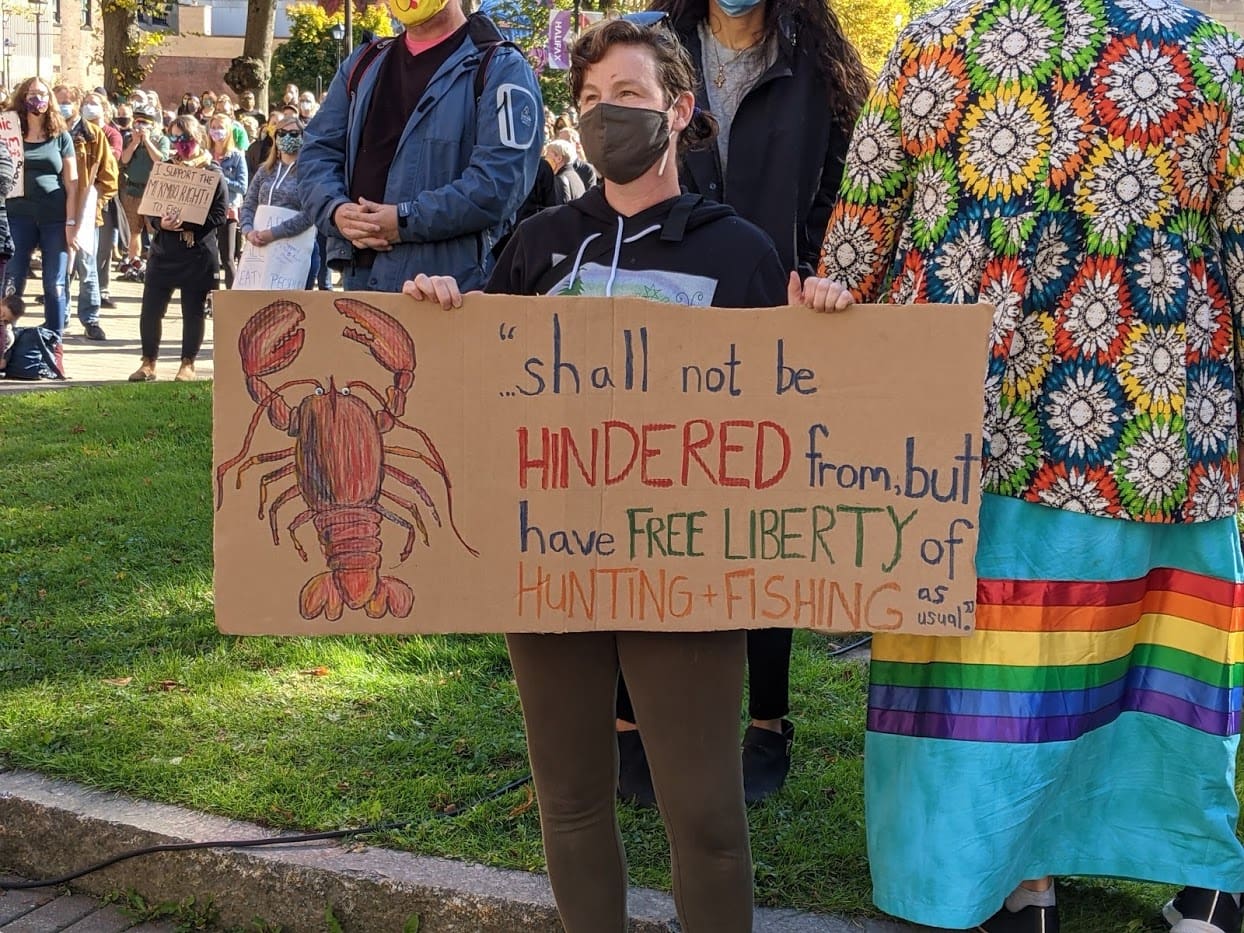 Speakers at the rally were all Indigenous, mostly Mi'kmaw, mostly women, and mostly from Sipekne'katik, the First Nation which is asserting its treaty right to conduct a self-regulated lobster fishery in a defined season.
"On the day that we received our moderate livelihood fishing tags, watched my nephew, a captain on one of the little ships, take his tags and hold his hand up proud," one of the women told the crowd.
"But I'm scared and worried when I see our warriors getting hit, when I see our people having to dive into the water to save their lives. We're receiving hate."
"But despite all this, we are not violent. We aren't lashing out. We're not spitting profanities. We're not telling people to go back where they came from."
See also: News brief: Hundreds of Haligonians come out to buy treaty lobsters
Donate:
1752FrontLine@gmail.com to donate to frontline supporters
monicah@sipeknekatik.ca to donate to the fishermen – legal fees, trap and gear replacement 
With a special thanks to our generous donors who make publication of the Nova Scotia Advocate possible.
Subscribe to the Nova Scotia Advocate weekly digest and never miss an article again. It's free!