KJIPUKTUK (Halifax) – Dr. David Gass, a 75 year-old retired health-care professional who would "pretty much walk everywhere" has died from injuries sustained from being hit by the driver of a truck, making a left turn at the Young/Kempt signalized intersection. I am deeply sorry to hear of the loss of this much loved and respected man.
Why so many serious incidents at signalized intersections?
Signalized intersections are beyond doubt statistically the most dangerous place to cross the road. The vast majority of signalized intersections in Halifax provide no dedicated infrastructure protection at all for pedestrians – just two faded white lanes and a legal right of way.
Given they are often multiple-lanes wide, they are an extraordinarily difficult and dangerous location to cross in the absence of safety infrastructure for pedestrians.
A right of way, eye contact, waiting until traffic has stopped – all those oft-cited safety precautions simply do not work at signalized intersections. The busier intersections are a real-life Death Race 2000 "free for all" of traffic flow first, pedestrian safety second.
Drivers turn left and right on a green light while pedestrians cross legally, often narrowly missing them or coming to an abrupt halt next to them. Drivers also turn right on a red light, often failing to consider pedestrians as they do so.
The major hazard of left hand turns on a green light while pedestrians cross is coolly summed up in Halifax's semi annual pedestrian safety report as follows:
"An assessment of the data compiled for 2017 shows that the most common pedestrian-vehicle collisions are occurring at traffic signals, with left hand turns being the most predominant vehicle movement. A total of 70 pedestrian-vehicle collisions occurred at a traffic signal in 2017, 34 were related to a left turn movement. This is consistent with previous years' findings."
Despite this issue being substantially and consistently evidenced over six years of local data collection and incident analysis between 2012 and 2017, Halifax did not act quickly to introduce traffic lights that prevent traffic turning into the path of pedestrians, like this one.
68 year old Kathleen Warren was killed last March after being hit by a driver turning right on green at the Portland/Eisener intersection last March. She was also crossing legally.
Two pedestrians were hit last June while legally using a signalized intersection crosswalk by a driver turning left on a green light, resulting in life-threatening injuries to a 54 year-old man.
How many more deaths and injuries to vulnerable road users can happen due to infrastructure that does not in any way accommodate the safety needs of those most vulnerable to impact?
The answer is of course: Zero. Ensuring vehicles can flow on our roads does not in any way mean that we can overlook the humanitarian requirement of adapting all crosswalks at dangerous locations so they are safe to use.
Our current traffic light system, which so clearly does not provide the essential protection required by pedestrians from turning/conflicting vehicular movements, must be changed. Also removing right on red permissions.
Aside from the humanitarian issues, research does not support a transportation efficacy requirement to endanger pedestrians with traffic lights that invite conflict between vehicle and pedestrian movements.
This latest avoidable human tragedy was no "freak accident". It was part of a consistent pattern of significant harm and trauma on Halifax's signalized intersection crosswalks. Doing nothing or little to change how and why these avoidable incidents keep happening is not contemptible, on any basis.
Nor should decision-makers wait for more serious and fatal incidents at signalized intersections before acting to introduce protection everywhere. There is more than enough historical data to evidence the fact they are unsafe for use by pedestrians and will result in many more serious incidents at any one of Halifax's 272 signalized intersections, unless urgent changes are made.
Neither can a "head start" of a few seconds realistically provide much difference at multiple lane intersections where pedestrians simply are not seen by turning drivers, and are hit within the last two lanes by drivers turning right or left on a green light.
Traffic signal solutions that provide pedestrians with safety are already used at most locations elsewhere in New England states, as described yesterday by Norm Collins in this report by CTV Atlantic and described further here. They are also used throughout Europe.
The road safety crisis for seniors should be acknowledged by all levels of government, and addressed with strategic policy and funding
Last August I wrote about a mobility crisis for seniors in Atlantic Canada.
This is not a recent trend. Over a long-term period, fatal incidents involving older pedestrians and cyclists in Nova Scotia are multiple times higher per 100,000 population than younger adult fatalities.
The average age of the last eleven pedestrian fatality victims in Halifax since January 2018 is 65. The youngest of those victims was 57. The remaining ten victims were all in their 60's and 70's.
Last year, two senior men in Nova Scotia also lost their lives while cycling – a 90 year old man from Auburn, Nova Scotia and a 68 year old man from Lunenburg County.
Seniors' active mobility journeys are overlooked because their journeys may not be included in census transportation data, which only captures work commuting journeys.
In urban and suburban areas, seniors are often very evidently a significant minority of those walking and cycling. Because senior active mobility needs are overlooked, we do not know how much this is accountable to road safety issues.
Seniors walk and cycle to get much needed exercise and for practical tasks, including shopping trips or assisting with childcare. They need safety adaptations at locations where they are most endangered including crosswalks that are safe for use, especially at multiple-lane locations.
With the aging process, seniors have cognitive and physical disadvantages that make complex and more demanding tasks like this shown below from Nova Scotia's pedestrian safety leaflet extremely difficult. The task required of them must meet both their abilities and their vulnerability to impact from a heavy vehicle.
What can be done to make active mobility a safe choice for seniors?
Choices we make about our infrastructure and legal permissions (like right on red) can change the task required of vulnerable road users from an extraordinarily dangerous and life threatening challenge set out in the educational leaflet by the Nova Scotian government below, to one that is realistic and achievable for all ages and abilities.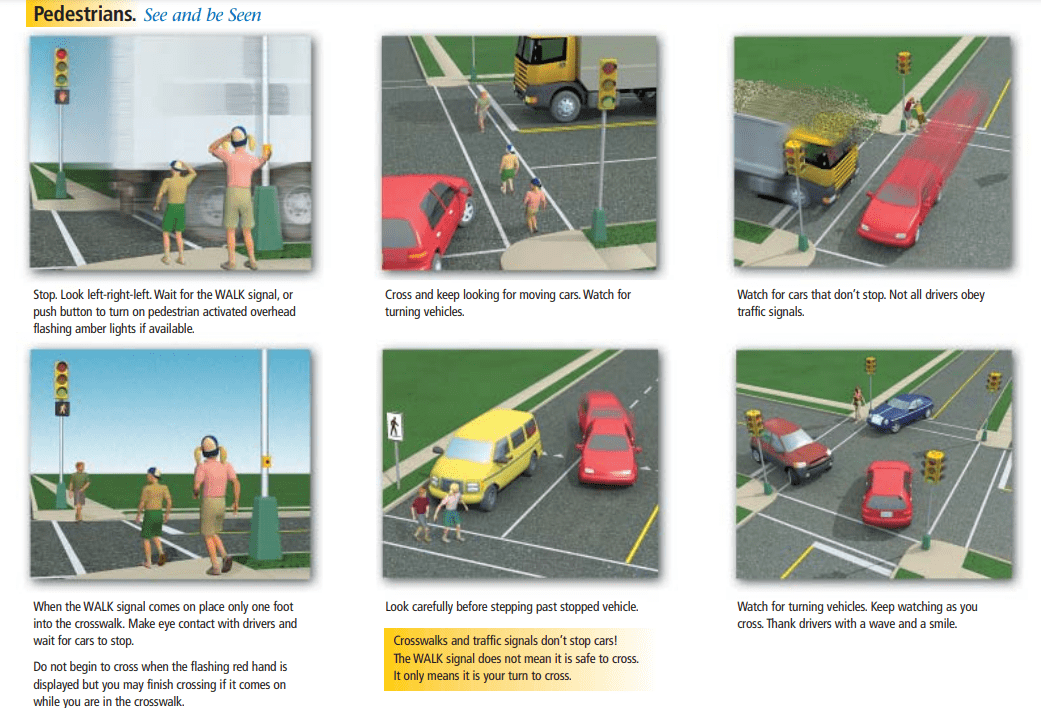 Those choices and issues must be acknowledged and assessed, and appropriate adaptations identified. This task must be led by the Municipality, pursuant to their commitment in the 2018 Road Safety Framework to "Develop action plan for worst 10 types of collisions. Consider rates/frequencies, consistency of collision patterns and crosswalk specific assessments."
You can contact your councillor by phone or email to request that this pedestrian safety action plan is prioritised and that a municipal policy is developed which makes urgent changes to traffic lights to ensure pedestrians are protected when they cross the road. An email template can be adapted for use here. Your councillors contact details can be found here.
The Province must work with Municipalities on safe active mobility for seniors and fund substantial changes
It is time for senior active mobility to move away from the shadows – and something we only hear about when a senior pedestrian or cyclist is killed or seriously injured.
The Nova Scotia Government's 2017 Action Plan for an Aging Population identified "Walking is one of the most effective ways adults of any age can maintain mobility and improve their health, both physical and mental" and provided a commitment that; "government will work with….individual municipal governments to support the development of age-friendly communities"
Despite this, road safety in Nova Scotia at the Provincial government level is currently chiefly financially focused on vehicular traffic flow enhancing projects such as Highway twinning. Within the municipality, most provincial funding for new transport related infrastructure is focused on vehicular traffic projects including the Burnside Connector (up to $107 million Provincial funding) and hospital car parking infrastructure..
The need to switch to more healthy and sustainable forms of transport in urban areas – transit, cycling, walking, all which rely on safe active mobility, is not in any way backed with the substantial change in strategy, funding and policy approach required from all levels of government.
The change in focus from car use to active and sustainable mobility for all can happen with funding, commitment and strategy – Ireland committed €410 million Euros ($614 million) to active mobility projects in 2021. The Canadian federal government committed $3.3 billion to sustainable transportation. The Provincial government must follow suit.
If you are concerned about lack of serious investment and commitment to sustainable transport by the Province, please write or speak to your MLA and request they propose a long-term transportation strategy which includes;
a) a commitment to identify and fund safe active mobility changes for seniors,
b) a $ funding commitment to sustainable transport and local active mobility solutions, and
c) a provincial road safety plan, as recommended by Child Safety Link in 2015.
See also: Letter: Safe sidewalks a concern in rural Nova Scotia
If you walk, cycle or use a wheelchair and are affected by road safety issues, please join HRM Safe Streets for Everyone. If your local crosswalk needs a crosswalk flag, please contact the Crosswalk Safety Society. Please remember to report issues affecting your safety to our municipal authorities using the 311 service.