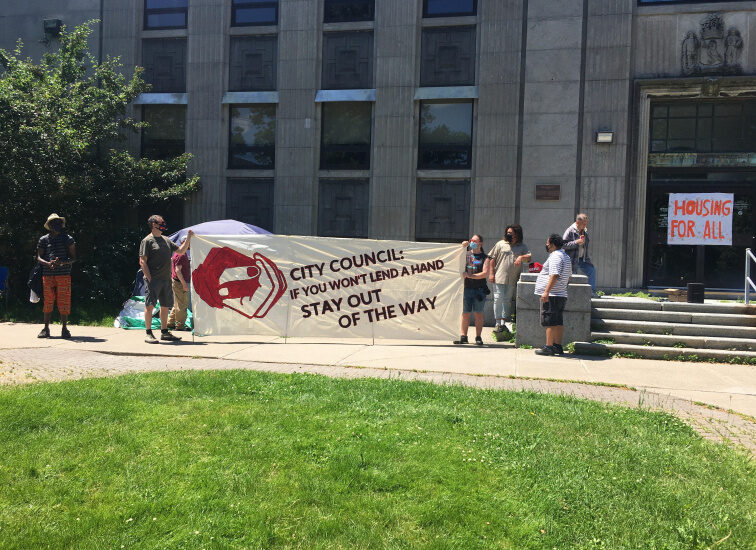 KJIPUKTUK (Halifax) – The city of Halifax is telling people living in crisis shelters to leave their temporary homes by June 13, or they will call the cops and make it so.
Unhoused people living in tents, or sleeping in the woods are tolerated, the city explains in a press release issued this morning, but "this approach does not condone or support the installation of infrastructure associated with encampments."
"The province has been working to ensure all current occupants of the temporary shelters will be offered a temporary accommodation option that can bridge to permanent housing," the city says, adding that only five former shelter occupants have taken the city up on its offer.
There are currently 13 crisis shelters in the city, providing a roof and a bit of safety and privacy to 15 people. There are another 21 people waiting for their own crisis shelter, Halifax Mutual Aid, the group that built the shelters, says. Many more people are sleeping rough in the city.
Several councillors taking to Twitter have complained about the anonymity of Halifax Mutual Aid.
However, you could say the same about the city. Who within the city made the decision to remove the shelters, why now, and why the focus on finding accommodations for crisis shelter occupants rather than on the most urgent cases altogether is far from clear.
The fundamental question is, why?
There is a housing crisis after all. The shelters aren't pretty, but clearly they fill a need. In many ways they provide more autonomy and agency than the hotel rooms the city is offering as a solution.
It seems that councillors as a group want it both ways. On the one hand they want nothing to do with this hot potato of an issue, arguing that it is an operational matter. Meanwhile, they do want to be seen to respond to complaints from wealthy residents and tourism operators they no doubt received.
But with this many citizens deeply concerned, clearly that will not cut it.
Crisis shelters have never been discussed at council. Except for a few hardliners like Waye Mason we don't know where elected councillors stand on this issue.
Councillors should stop hiding behind an amorphous city and become accountable for the city's actions. They should tell the city to stop attacking the poor and vulnerable, change or suspend the bylaw that makes crisis shelters illegal, and get to work on real solutions.
See also: "If you can't lend a hand, stay out of the way" – Haligonians rally in support of the crisis shelters