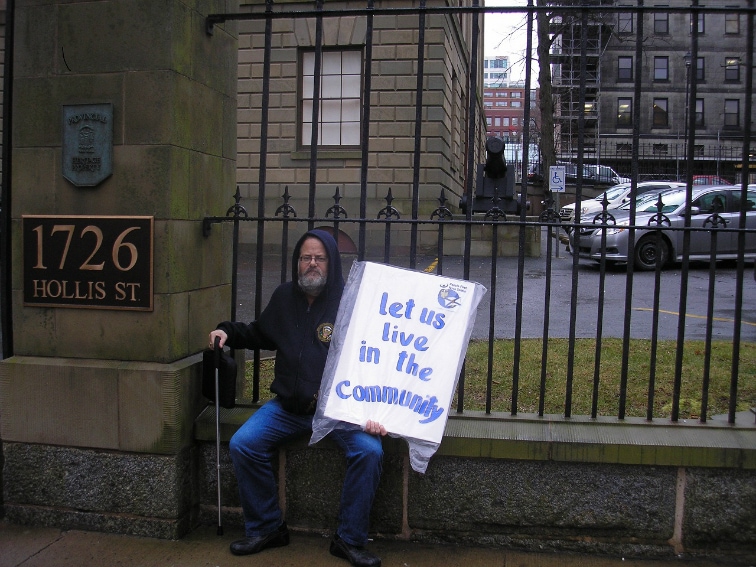 KJIPUKTUK (Halifax) – A Nova Scotia Human Rights enquiry reached a crucial stage last Wednesday after closing statements were delivered by the Province of Nova Scotia, the respondent in the case.
The complainants, Beth MacLean, Sheila Livingstone and Joseph Delaney believe that they suffer discrimination at the hands of the Province, because Community Services through its Disability Support Program (DSP) fails to provide adequate community living options for people with disabilities. At one time they all resided at Emerald Hall, a locked psychiatric ward within the Nova Scotia Hospital complex.
Instead, they are forced to live against their will locked up in hyper-institutionalized surroundings, often far removed from family and loved ones. Meanwhile a severe shortage of small option homes offers little hope that their ordeals will end in the foreseeable future.
The complainants, joined by the Disability Rights Coalition, argue that discrimination occurs, because treatment of people with disabilities is radically inferior to the way others are treated, people who also rely on social assistance but who do not require residential support.
All in all, some 35 witnesses were heard during 29 days.
Government lawyer Kevin Kindred argued that although the Disability Support Program is flawed, that does not mean it is discriminatory.
Kindred argued, among other things, that:
Engaging the Province for housing support is not a right, rather it's a choice that people with disabilities make, it's voluntary.

Many of the issues raised during the enquiry occurred prior to the mid-nineties when many social services were run by municipalities rather than the province.

The discrimination complaint rests on a comparison with housing needs of people on social assistance. A better comparison would be with Housing Nova Scotia, which also has a wait list.

References to United Nations declarations that Canada signed off on have no place in this enquiry as they do not directly apply to the question of discrimination before the enquiry.
In the afternoon Claire McNeil, on behalf of the Disability Rights Coalition, and later Vince Calderhead, speaking for Beth MacLean, Sheila Livingstone and Joseph Delaney, responded.
This complaint is very much anchored in a right to public assistance, said McNeil. Social assistance is intended to be accessible to everyone, designed to cover basic needs, including the need for shelter. But if you're poor and disabled, it is no longer accessible to you.  
If it was just housing that was the issue Beth McLean could have received that decades ago, as well as social assistance. That wasn't the problem, the issue are the supporting services, said Vince Calderhead. When government offers a program such as Social Assistance, it must include people with disabilities.
All arguments were packed with references to case law.
Now inquiry board chair Walter Thompson must decide whether the rights of the complainants have been violated.
If Thompson finds that the way government deals with housing needs of people with disabilities is indeed discriminatory, then, and only then, will there be a second phase, to determine  to what extent the Province must make changes in its policies and activities.
The Province very much wants to avoid that second stage, as it likely will have a major impact on how funding is allocated and how the department conducts its business.
Meanwhile, many residents and former residents of large institutions and disability advocates very much want Nova Scotia to join the 21st century, move away from institutionalization and properly invest in the creation of small option homes. Small option homes typically house two or three residents in a community setting and provide a supportive infrastructure.
It will take at least several months before the decision will be announced.
See also:
---
With a special thanks to our generous donors who make publication of the Nova Scotia Advocate possible.