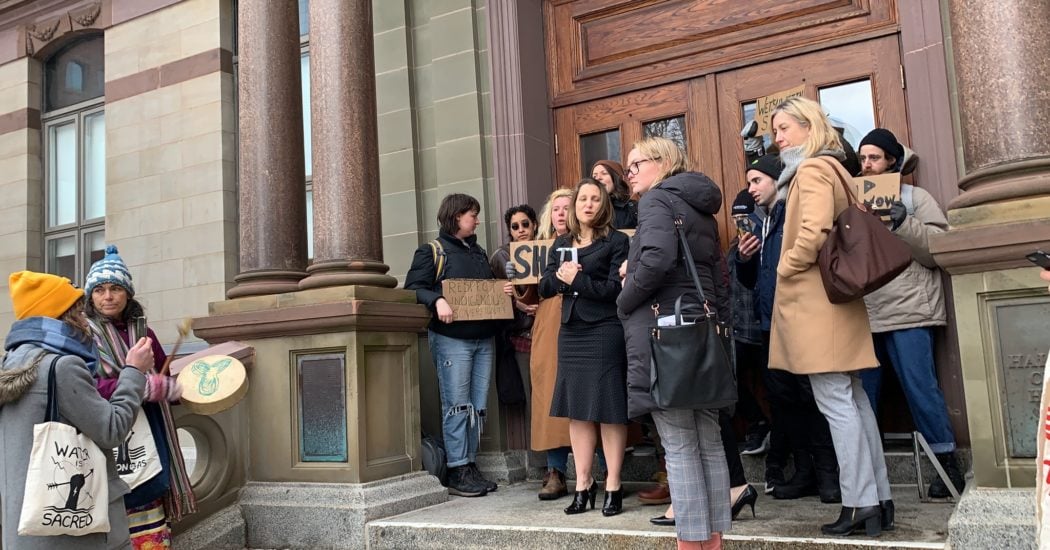 K'jipuktuk/Halifax: At around 4pm on February 12th, supporters of Wet'suwe'ten land defenders intercepted Deputy Prime Minister Chrystia Freeland outside of Halifax City Hall, where she was slated to meet with Mayor Mike Savage. They called on Freeland to respect Indigenous rights and blocked her from entering both the side door, as well as the front door of City Hall.
Ultimately, police used excessive force against demonstrators in helping Freeland to enter the building.
This Wet'suwe'ten solidarity action follows an earlier occupation in the lobby of One Government Place, aimed at disruption of Freeland's meeting with Nova Scotia Premier Stephen McNeil.
See the earlier press release here: Press release: Supporters of Wet'suwet'en land defenders gather in Halifax to disrupt visit by Deputy PM in solidarity with Wet'suwet'en land defenders