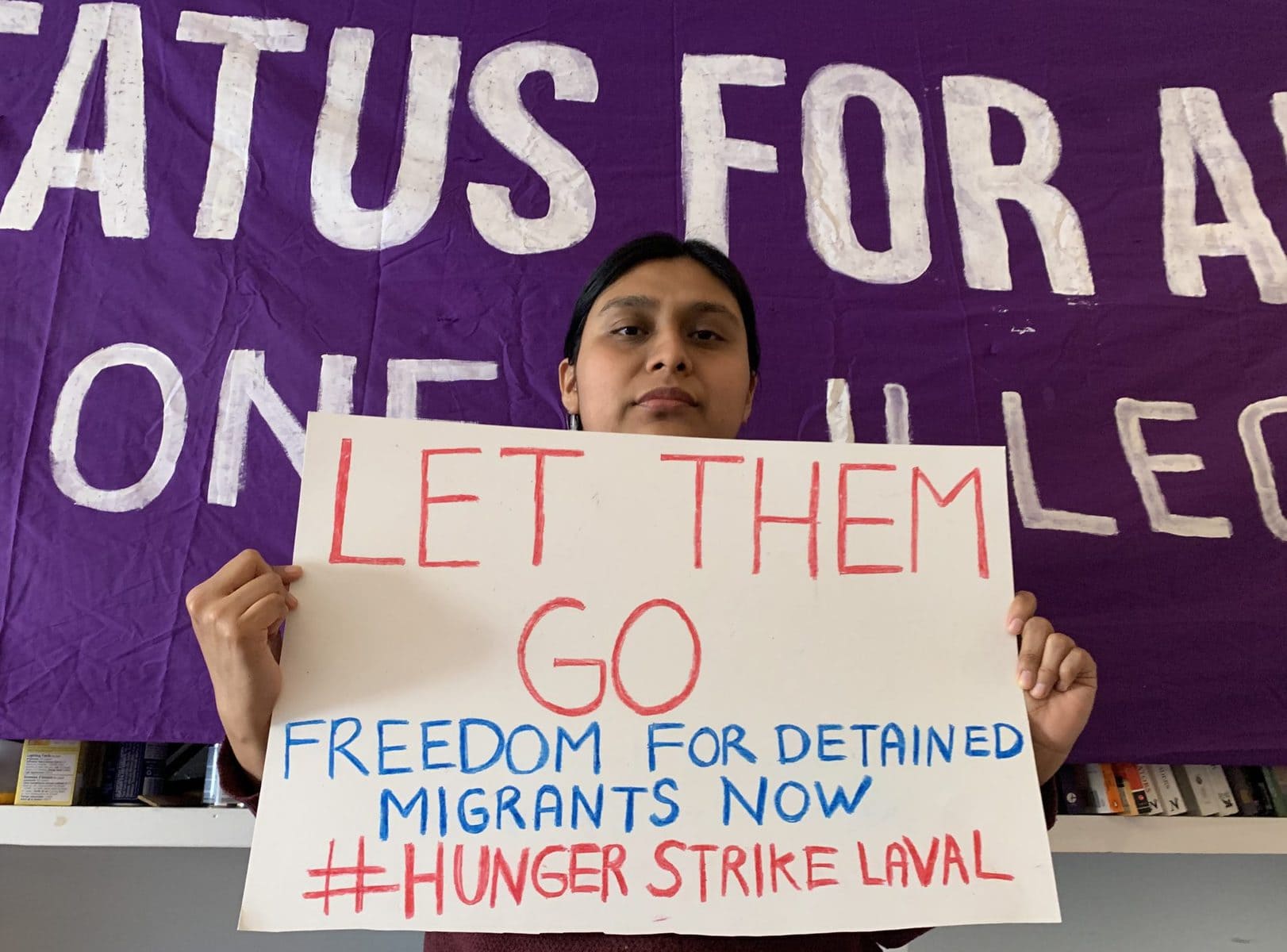 Across Canada (28 March, 2020) – Medical professionals, human rights organizers, and supporters from coast to coast came together virtually to denounce the catastrophic legal, medical, and moral consequences of the COVID-19 pandemic on incarcerated migrants. The press conference took place as migrants at the Laval Immigration Detention Centre entered their fifth day of an indefinite hunger strike.
" I am outraged by the current situation. The detainees are already on their fifth day of hunger strike, and to date, no official has responded to the situation. We are in the midst of a global crisis- every day, we are being informed of measures to protect ourselves from this virus. Don't the detainees at the Laval Immigration Detention Centre deserve the same treatment? I am once again sending a message to the authorities- that they must react quickly in order to limit the consequences", said the sister of Abdoul. 
Despite considerable pressure from the Canada Border Services Agency (CBSA), detainees have been refusing all meals since Wednesday. Confined in close quarters and exposed to the coming and going of guards, food and maintenance personnel, social distancing measures are impossible to observe and the risk of COVID-19 transmission is real. 
"It's impossible to enact public health measures necessary to prevent the explosive spread of COVID-19 infection among those held in detention centres and prisons. Authorities must release all those detained across the country including those hunger striking at the Laval Immigration Holding Centre. This is a matter of life and death midst an unprecedented global pandemic.", said Nanky Rai, MD,MPH at the Parkdale Queen West Community Health Centre.
The strike is unfolding as calls to release prisoners multiply. The United Nations High Commissioner for Human Rights called on governments this Wednesday to "work quickly to reduce the number of people in detention," noting the extremely high risk posed in detention facilities where social isolation and physical distancing are impossible. Similarly, the European Council has urged that administrative detainees be released. 
" La Ligue des droits et libertés is more and more concerned both for the health and safety of the detainees at the Laval Immigration Detention Centre, and for public health. To avoid a public health disaster, they must be released and we must prevent others from being detained», said Alexandra Pierre, of the Ligue des Droits et Libertés. « Imprisoning people who, for example, are refugee claimants or whose papers have expired, is already a violation of their fundamental rights. Furthermore, in the context of the pandemic, we are disregarding their right to safety, to health and event to life. It's unacceptable!"
Supporters also highlighted the Canadian government's involvement in creating conditions that displace people around the world and force them to migrate. They also called for the immediate release of detainees, safe and decent housing for all those released, and an end to new detentions. 
"The Canadian state provides unwavering support for extractive projects like Canadian mining, as well as repressive regimes in Central America, which forces people to flee northward. Yet, when refugees and migrants arrive here, they face unjust border restrictions and mistreatment. These harmful policies need to end", said Stacey Gomez, Maritimes Coordinator of the Maritimes-Guatemala Breaking the Silence Network.
"It is unacceptable that these men felt that they had no choice but to stop eating to demand that they be treated with the same precautions as everyone else. We call on the Canadian government to immediately take serious action to protect them and other prisoners so that they can stop the hunger strike before their health is harmed", said Safa Chebbi, of Solidarity Across Borders.
Click here to take action in solidarity with migrants detained at the Laval Immigrant Detention Centre.
-30-
Contact: detenuslaval@gmail.com

Background:
Latest news from inside (including daily audio updates)
Source:
Solidarity Across Borders