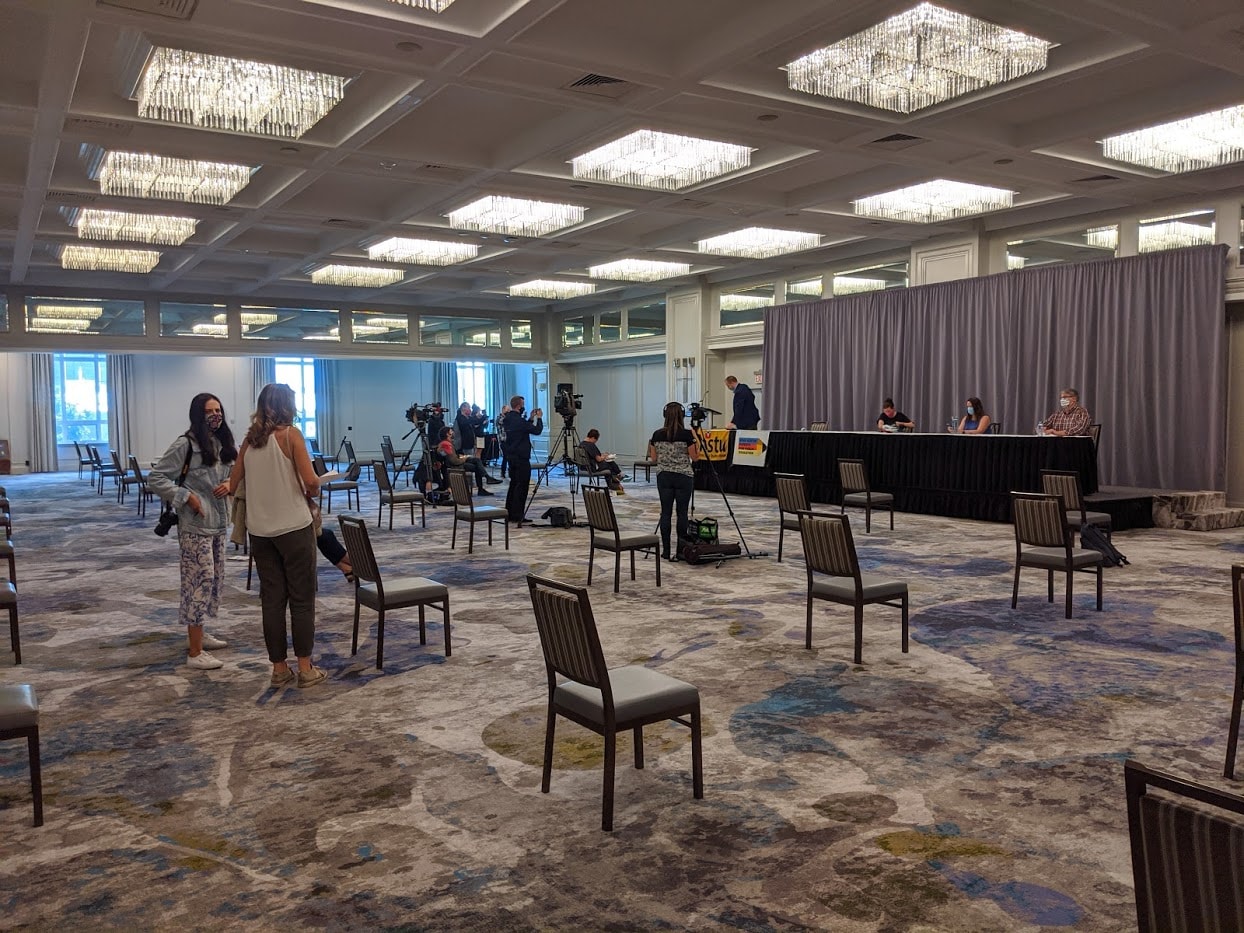 KJIPUKTUK (Halifax) – A press conference by parents and teachers this morning raised questions around the province's back-to-school plan that, with just 10 days to go, are becoming increasingly urgent.
"I am not a  hand wringing hysterical mother, and I know the start of school is always an anxiety-filled event. But this year we are talking about a virus with potentially long-lasting effects," said Christine Emberly, talking about the provincial back to school plan.
How will kids learn, and how are parents going to be able to look after their kids if a school has to close, she asked
Emberley spoke at a press conference at the Westin Hotel in Halifax this morning, jointly organized by the group Nova Scotia Parents for Public Education and  the Nova Scotia Teachers Union (NSTU). 
"This is the largest, most complex reopening our province has attempted since COVID-19 reached our shores in March. Each and every school is connected to a community," said Paul Wozney, president of the NSTU and himself a father of three children. "If we can't control COVID-19 in our schools, we won't control it anywhere else."
Speakers at the presser raised concerns about classrooms not being large enough to maintain physical distancing, safety of younger children who are currently not required to wear a mask, and the absence of clear guidance in case a school or classroom must close and children need to be quarantined.
Not knowing what will happen if and when students are sent home is making it harder to ask legitimate questions, Wozney said.
"We have so many Nova Scotians that live at or below the poverty level, that have no access to sick leave, that can't afford 14 days of unpaid leave at home, we don't know when new supports will kick in. There is a blind spot here," said Wozney. "If schools have to close tomorrow, that's a lot of families who can't make rent. That's a lot of families who you are in arrears on their mortgage facing foreclosure. Families need this type of clarity and communication."
The NSTU and the parents group both asked that parts of the $48 million emergency funding in support of a safe reopening of schools recently announced by the federal government be used to rent additional space where needed. As well, some of that money could be used to hire additional teachers and other resources to allow for proper physical distancing in smaller classes.
Neither the union nor the parents group were at all reassured by the IWK endorsement of the plan, pointing to Toronto's Sickkids Hospital reluctance to endorse a back to school plan in Ontario that is very similar to Nova Scotia's plan.
The IWK emphasizes the need for kids to go back to school for their emotional well being, and that's fair, but I don't think they understand the state of ventilation in our schools, and I don't think they understand how few classes are actually going to fully physically distance kids under this plan, Wozney said.
"Many of our questions remain unanswered or ignored. There seems to be very few people who can help us navigate our way through the system. Moreover, there have been plenty of important decisions, but these have been made without consultation with students, parents, staff, and local governments and local communities. For many of us, we feel we are on the outside looking in," said Adam Davies, a former School Board member from Cumberland County.
"We have fallen into a system of one way communication from the government, where people are only informed of matters, but never engaged in them. In my experience as an elected school board member that only serves to heighten animosity and weaken confidence in the system itself," Davies said. 
On the weekend Parents for Public Education launched a petition calling for a "better back-to-school plan" that in just a few days received almost 8,000 signatures.
See also: "School needs to be safe, this cannot be negotiable" – Unions respond to province's back to school plan
With a special thanks to our generous donors who make publication of the Nova Scotia Advocate possible.
Subscribe to the Nova Scotia Advocate weekly digest and never miss an article again. It's free!