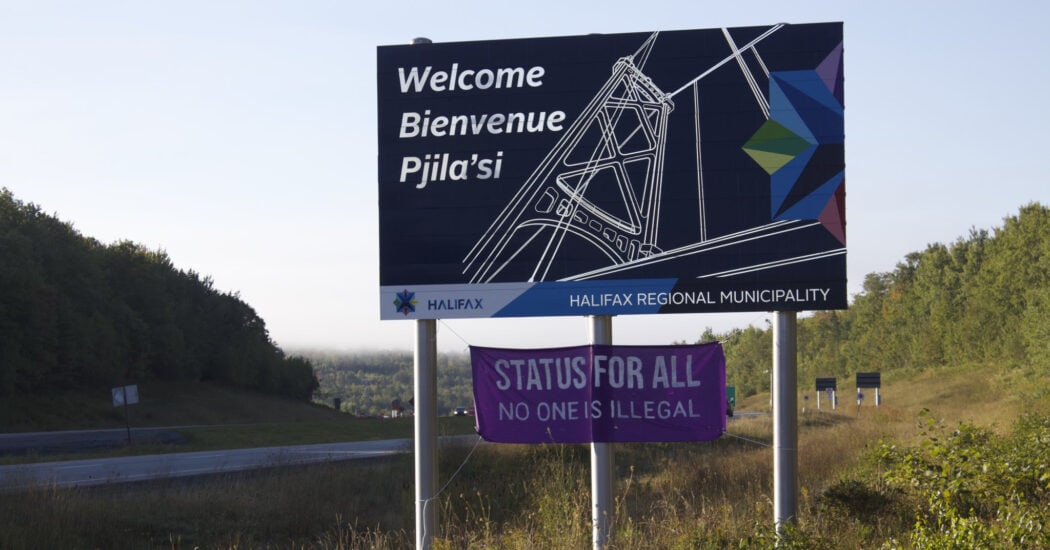 K'jipuktuk/Halifax (September 20, 2020) – Today, actions are taking place across the country to call for full and permanent immigration status for all. This comes just days before Prime Minister Trudeau's Throne Speech, where he is expected to announce an economic recovery plan in response to COVID-19. In the early hours of the morning, migrant justice group No One is Illegal – Halifax/K'jipuktuk (NOII-Hfx) attached a banner to the Halifax Regional Municipality's welcome sign on Highway 102, which reads "Status for All: No one is illegal."
"Migrants, refugees, undocumented people, workers and students across the country have been taking action and demanding status for all to ensure basic rights for everyone and access to critical services. A just recovery requires full and permanent immigration status for all and nothing less," said Tina Oh, a NOII-Hfx organizer.
Earlier this week, on September 14, a coalition of 300+ organizations representing over 8 million people released a letter to Prime Minister Trudeau calling for full and permanent immigration status. Signatories included a number of Nova Scotia based groups, including NOII-Hfx.
These actions come after months of protest – led by undocumented migrants and other migrants with precarious status – demanding a fully-inclusive regularization program. Read the statement here: www.statusforall.ca
This event is taking place as part of the cross-country day of action coordinated by the Migrant Rights Network, Canada's migrant justice coalition. Actions are also taking place in Kelowna, Vancouver, Toronto, Montreal, Hamilton, St Catharines, Ottawa, Fredericton, Kitchener and St John's: https://migrantrights.ca/sep20advisory/
– 30 –
Media Contact:
Tina Oh
No One is Illegal – Halifax/K'jipuktuk 
noii.hfx@gmail.com
— — —-
Background
At least 1 in 23 people in Canada (over 1.6 million) are non-permanent residents.
Migrants are on various study, work or humanitarian permits, or without documentation at all.
Many migrants are excluded from universal healthcare, access to emergency income supports, and decent work. Many are separated from their families.
Hundreds of thousands of migrant workers, refugees, students and undocumented people have lost their lives and livelihoods in COVID-19.
Migrants are unable to fully protect themselves during COVID-19 because of lack of emergency support, and because speaking out about unsafe work and housing conditions can result in deportation, homelessness, or not being able to return to Canada.
The federal government announced a "pathway to permanent residency for some asylum claimants working in the health-care sector during the COVID-19 pandemic" on August 14th. However, COVID-19 does not differentiate between people, and neither should the government response.