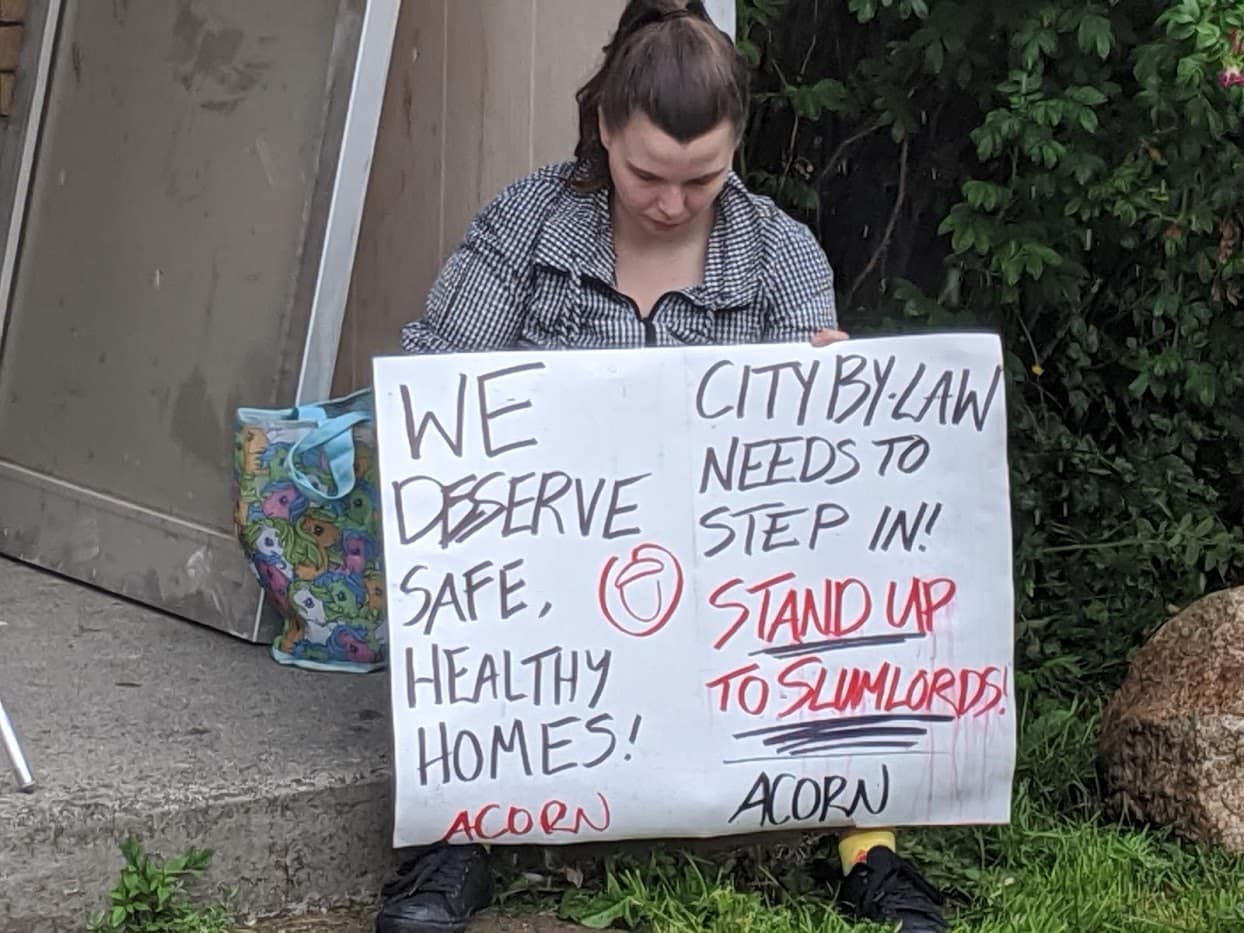 KJIPUKTUK (Halifax) – Just prior to a municipal election, ACORN Nova Scotia took to the plaza in front of the Halifax Central Library last Saturday to mobilize support for a comprehensive landlord licensing program.
The Halifax 'Defend our Homes' Platform seeks to enforce minimum standards for landlords and their rental units the same way we have standards for employers and their workplaces.
Hannah Wood, Chair of the Halifax-Peninsula chapter of Nova Scotia ACORN, believes more oversight of landlords is necessary to combat the unsafe, unaffordable and unsuitable housing in Halifax Regional Municipality.
While Wood is a relatively new face to the organization, Nova Scotia ACORN has been advocating for a landlord licensing program for the past six years. Halifax Council will vote on legislation to implement a landlord registry in the Municipality in the spring of 2021.
Wood, who's also an accessibility advocate, says a landlord database would bring accountability to landlords, who often argue what they do is a job like any other.
"How should we treat that like a job with standards and professional expectations if not through a licensing system?" she asks. "It's about bringing accountability to the people who rent the properties they own.
See also: Housing activists find flaws in proposed Halifax landlord registry
Nova Scotia ACORN continues to work on a platform for public housing reform. Wood also believes the Residential Tenancy Act is broken as it isn't being properly enforced.
"It's really easy to get signatures on our petition for landlord licensing because when we talk to people, they get it," Wood says.
"No landlords without tenants, so we should have equal say"
New member and first time advocate David Comeau finds himself watching the clock run out on his tenancy. Comeau, a 35-year-old from Dartmouth, lives with his two young children, his mother and brother. He's being evicted at the end of October after what he calls a retaliatory decision by his landlord to not renew his fixed-term lease.
Comeau hopes the family won't be broken up but finding an affordable apartment that is both safe and not crowded is becoming more difficult in Halifax as rent skyrockets without relief.
"The registration and licensing would be a good change in the right direction because fewer landlords would probably be inclined to do the shady and unethical things they do," Comeau says.
Comeau believes much of the current Residential Tenancies Act is designed to favour landlords over tenants.
"They wouldn't be landlords without tenants, so we should have equal say."
The group's demands, according to a recent press release, include:
● Licensing all new and existing rental units, landlords, and property managers in the HRM in a free, publicly accessible database.
● Ensuring random annual inspections by the city of rental units and buildings to enforce standards laid out in bylaw M-200 and keep units from falling into disrepair.
● Creating an enforcement system which fines landlords for unsafe conditions, bylaw infractions, and non-compliance.
● Setting up an anonymous reporting system for bylaw infractions to prevent retaliation for tenants who file complaints.
Council candidates weigh in
Yesterday ACORN Nova Scotia announced the results of its survey of Halifax council candidates.
See above for the candidates who have endorsed the ACORN landlord licensing platform.
See also: Lisa Roberts: Rent control a discarded solution to deepening housing crisis in Nova Scotia
With a special thanks to our generous donors who make publication of the Nova Scotia Advocate possible.
Subscribe to the Nova Scotia Advocate weekly digest and never miss an article again. It's free!