KJIPUKTUK (Halifax) – "This lady was given a $600 a month increase to her rent. Now I don't know all the details, but I imagine she's another renoviction victim. She's also a single mother."
We've been seeing quotes like this one a lot, lately. These exorbitant rent increases happen way too often in Halifax.
Except, this does not take place in Halifax, it's happening in the town of Antigonish. The person telling me about it is Antigonish resident Chad Brazier. Brazier is trying to organize a local chapter of the tenants' rights organization ACORN Nova Scotia.
"I've lived here for eight, nine years. In that time I've seen landlords buy up houses, and convert them into four or five units per house. The rents only go up," Brazier says. "Not having rent control is really bad for the stability of our neighborhoods. How are you expected to put down roots, invest in your community if you don't know what you will be paying in rent two years down the road?"
A shortage of good quality affordable housing has been an urgent problem outside of Halifax long before it reached its current peak here in the city of Halifax.
The Nova Scotia Advocate featured a video about the lack of affordable housing in Antigonish in 2016. The picture it paints is one of desperate renters with their backs against the wall, and landlords out to make a quick buck taking advantage. Sounds familiar?
Housing-related data collected by Statistics Canada during the 2016 census shows the extent of problems faced by Nova Scotia renters.
53,000 Nova Scotians, 43 percent of all Nova Scotians who rent, spend more on rent than they can afford, meaning that they spend more than 30 percent of their annual income on rent and utilities. As this map below shows, that's the case not just in HRM, but in lots of places.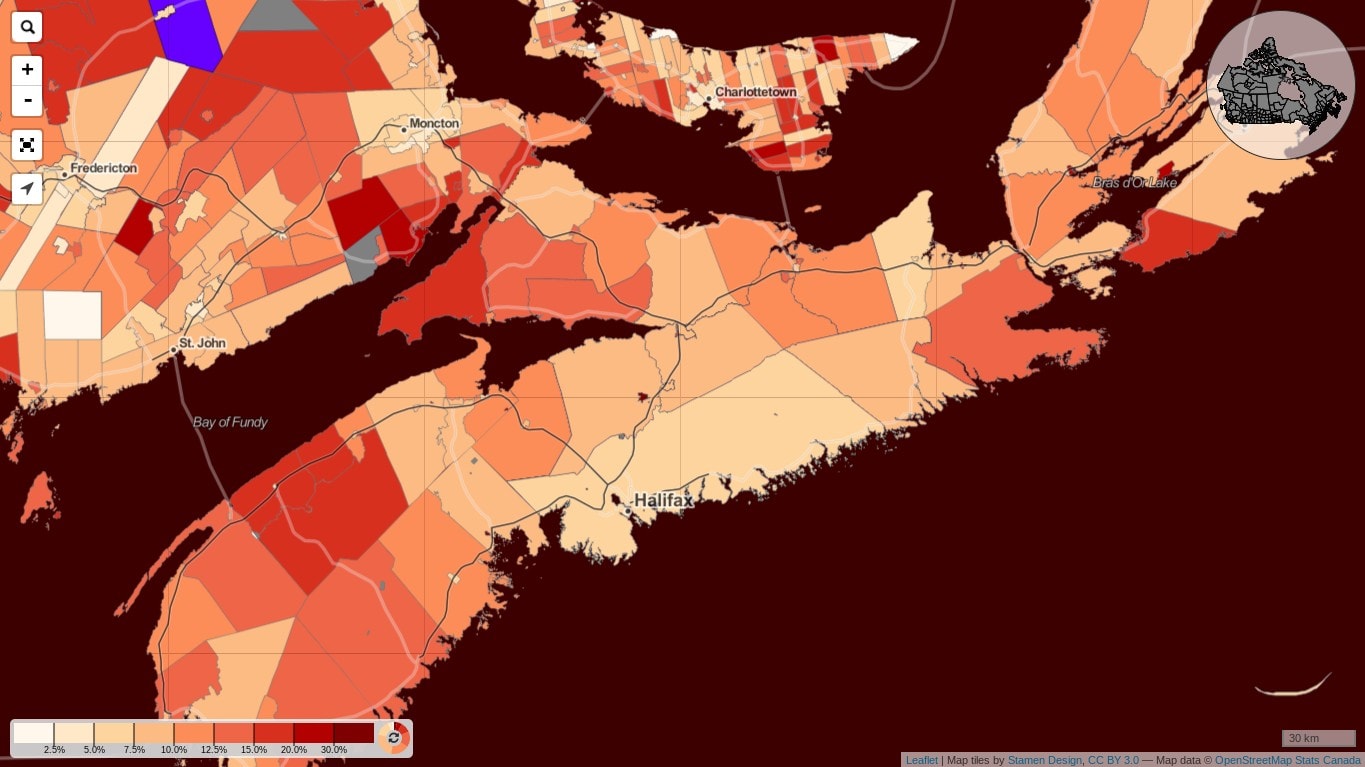 That same Stats Canada survey shows that some 10% of rented homes and apartments across Nova Scotia need major repairs, oas reported by occupants of these homes.
Statistics Canada defines major repairs as "critical repairs to electrical, heating or water systems, or to structures such as walls, floors, ceilings; or needs major replacements such as a new roof, or new external siding."
Occupants describe an additional 21 percent of rental units as needing minor repairs, defined as "some part of your dwelling is damaged, defective or not operating properly." Numbers for Halifax, Kentville, New Glasgow and Truro all fit the provincial pattern, give or take a percentage point.
"They're not building the kind of housing we need"
The pressures are the same as in the city, but for people living outside of town the difficulties are exacerbated by lack of public transportation, meaning trips to the food bank or the doctor are major undertakings.
Social isolation is also a more prominent problem for people who end up living somewhere in rural Nova Scotia, often without easy access to transportation.
And homelessness as well is not just a city problem. It's just less visible in rural Nova Scotia
"The guy that I see at church every Sunday, the last three or four Sundays he's asked me if I know of any unit in town here with internet access. He has a small boy and the boy needs the internet for school, and there's no internet where he lives outside of town," Brazier tells me.
"They're doing a lot of development here in Antigonish, you can look up and down Main Street here and you will see the storefronts, with the rental units above them. But those are all for professionals, or students who are putting it on their credit card. They're not for low income people, not for single mothers with their family, not for regular students," says Brazier.
"They're not building the kind of housing we need, and we're not forcing them to."
ACORN is holding a rally on Saturday, November 7th at 2pm on the Grand Parade outside of City Hall to demand the Province enact Rent Control. 
See also: "We're in a serious crisis" – NDP MLA Susan Leblanc on rising rents, renovictions and the shortage of affordable housing
With a special thanks to our generous donors who make publication of the Nova Scotia Advocate possible.
Subscribe to the Nova Scotia Advocate weekly digest and never miss an article again. It's free!