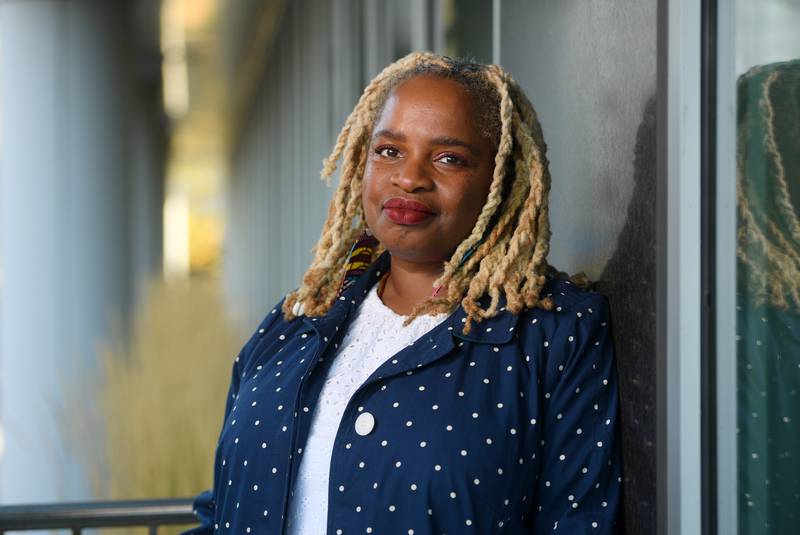 How well is Nova Scotia's health system serving the Black community during the pandemic?
Not well at all, says Dr. OmiSoore Dryden, who is the James R. Johnston Chair in Black Canadian Studies in the Faculty of Medicine and an associate professor in the Department of Community Health and Epidemiology.
We spoke about the province's refusal to collect disaggregated race-based data, the impressive mobilization against COVID by members of the North and East Preston communities, and the challenges of vaccination. More than anything, we spoke about racism.
I'm hesitant to ask, because it's such a huge topic, but here goes. How well is the Nova Scotia health system serving the Black community?
Everything we've seen from studies shows that African Nova Scotians and Black people in Nova Scotia have relatively poor health outcomes, and that there are disparities in the health system.
If we draw from that research, then I would say Nova Scotia is not doing a very good job. If Nova Scotia actually respected that research then they would engage in collecting disaggregated race-based data so that they themselves can identify where they need to do better, and possibly where they're already doing a good job.
One of the reasons why they don't collect such data, we're told, is this claim that they're colorblind, that they don't see a person's colour. This false belief exists not just in Nova Scotia but across the country. They believe that being colourblind means they're acting in an equitable way.
How does this racism manifest in the health system when we think about the pandemic?
Both Dr. Strang and Premier McNeil have said that now's not the time to collect race-based data. They make these claims that COVID doesn't discriminate, and neither does the health system.
However, data that's now being collected nationally, in Toronto, in Manitoba, in the United States, and in the UK, show that in fact COVID is very discriminating. COVID looks for the most vulnerable individuals who live in the most precarious circumstances, and pounces on that population. For instance, even though Black people in Toronto only make up 9 percent of the population, they're making up 30 percent of COVID cases.
Poverty is one of the main reasons for this. Working in multiple jobs, being unable to work from home, relying on public transportation, lacking paid sick days, not being adequately housed, living in food deserts. As well, systemic racism exacerbates chronic illness, and racism has a physiological response in the body. All these factors mean that you are more susceptible to illness, and that it takes longer to recover. This is not born of race, it is born of racism.
So if Nova Scotia, were actually honestly concerned with how COVID is impacting vulnerable communities, then they would collect the data. Because we don't know if African Nova Scotians are also 30 percent of the cases. And that's such a significant number. It shows negligence on the part of the province, because on one hand they're saying, look, we kept numbers low, we have the Atlantic bubble, our processes are working, but on the other hand, are refusing to consider any data that may contradict that.
Is this a case of systemic racism?
People are often confused about what systemic racism is. They believe that racism consists of individual actions and individual beliefs, and they are unable to identify that the very structure which the system is operating in is created out of racism. Trying to get people's head around that is daunting, it's so much easier to claim that these are individuals acting in isolated moments.
I've tried hard to find any statements where Dr. Robert Strang ever mentioned African Nova Scotians or health disparities, and I can't find them. That is actually an indicator of systemic racism, the fact that he seems to refuse to engage conversations around Black people in Nova Scotia. It's astounding to me that somebody in a position like his would continue to refuse the conversation around experiences of African Nova Scotians. When Dr. Strang held that public town hall with the African Nova Scotian of the North Preston rapid response team, he was so belligerent. It was the classic demonstration of white fragility. He certainly never apologized to the North Preston community.
Meanwhile, we witnessed folks in North Preston and East Preston mobilize against COVID very early on and take charge. How significant was that?
The North Preston rapid response team has been amazing. Community members saw what was happening as early as January, and they came together to make sure their communities were taken care of. Knowing that public health didn't care about what could happen, they effectively became public health workers. They knocked on doors, they held meetings, they hosted all of these events. They insisted that public health clinics be held in North and East Preston, making sure that there were culturally representative posters.
See also: Miranda Cain on COVID-19 and the Prestons: "The little we do have, we have done it ourselves"
They did all that work, even after Strang and McNeil publicly attempted to stigmatize them and of course harm them. They stood up against that. They demanded a meeting, they demanded an apology, something they didn't get, and still they worked in the community. It is because of their work that not one person died. Nobody has thanked them for that work.
See also: Open letter demands the Premier and the Chief Medical Officer apologize to African Nova Scotian communities
There's now a province-wide African Nova Scotian rapid response team, to really make sure that the work of public health is ethno-racially responsive. This is all directly because of what's happened in North Preston.Their work is resonating with Black communities across the country.
Now there is talk about potential hurdles among some in the Black community when we turn our thoughts to vaccination.
It will help nobody if public health were to attempt to shame people, claim that Black people are simply being anti vaxxers. For the vaccine to be distributed effectively, there need to be four simultaneous actions taken by public health.
One is a provincial health promotion piece that not only talks about the safety of the vaccine, but demonstrates an understanding of why Black people and Indigenous people would be suspicious about a vaccine. There is a reasonable suspicion because of how historically Black people often have been thought of as test subjects and not as patients in need of care.
Second thing is that public health workers must partner with community members, knocking on doors and holding information clinics together.
Thirdly, they need to make sure that they have clinics in rural communities, so people don't have to travel long distances. And again, those clinics need to be populated with community members to facilitate that process.
Finally, there must be a commitment that marginalized populations are supported through the long haul, to respond to anything that may come up once the vaccine has been taken.
All this illustrates how urgent it is that public health has these very conversations around systemic racism that they refuse to engage in. Public health is supposed to be well versed in the social determinants of health. One of those social determinants of health is racism. And if a public health body cannot acknowledge how racism is impacting African Nova Scotian communities, then why would African Nova Scotians trust that public health would be able to care for them during a pandemic?
See also: Coronavirus discriminates against Black lives through surveillance, policing and the absence of health data
With a special thanks to our generous donors who make publication of the Nova Scotia Advocate possible.
Subscribe to the Nova Scotia Advocate weekly digest and never miss an article again. It's free!