KJIPUKTUK (Halifax) – Nova Scotia's upcoming provincial election comes at a pivotal moment, as the province is exiting the pandemic and setting the course for a new normal.
The pandemic has amplified existing inequities, it has made it clear how important nature and communities are to our physical and mental well being, and it has provided an opportunity for reflection on the state of society.
We, as voters in this province, have the opportunity to determine what a just recovery will look like in the upcoming provincial election.
Many organizations and individuals have been working towards a just recovery, ensuring that bold and necessary action is taken to protect the planet, that no one is left behind, that communities are strengthened, and that everyone in this province is provided with the necessary means to thrive
During the pandemic we witnessed rapid implementation of policies and programs that were previously viewed as impossible to accomplish, and this election is an opportunity to vote for further changes to protect Nova Scotians from worse crises to come.
Voting alone won't change systemic inequalities, and this is the time to imagine what the province could look like and how we can rebuild towards a better world.
"All programs and policies need to work for women"
Women and children in Nova Scotia have faced some of the largest challenges during this pandemic. Not only did many women in the province lose their jobs, but over half are employed in high-risk frontline service work.
Miia Suokonautio, the executive director of the Halifax YWCA, argues that since this was one of the first economic recessions primarily driven by loss of low-wage, frontline workers in the service industry, who are disproportionately women and single-mothers. Therefore, these jobs need to be better paid and supported.
The pandemic did, however, provide the opportunity for decision-makers to implement some support for primarily women-led fields, like childcare, she says.
"During the closures, the government took a really key role to prevent childcare centres from closing and we actually piloted universal childcare, because essentially every spot was free… What if we continue to make those investments, because we demonstrated that we could," Suokonautio asks.
Another major policy that was implemented to support people during the pandemic and that should be carried through and improved on in the recovery is rent control, and the moratorium on (some) evictions.
Suokonautio and the YWCA also ask us to consider "what is the strategic way that we build back in a way that that safety provision [to protect women from domestic and sexual violence] is included." We, as voters, look to support candidates that have "an intersectional gender lens, and consider the impact of any proposed plans on Nova Scotian women", she says.
Most importantly, Suokonautio stressed that all programs and policies need to work for the women and people who are the most marginalized and vulnerable, and only when they work for those in the most challenging circumstances, will they work for everyone else.
"Elections are always great opportunities for us to get candidates to prioritize student issues"
Students are another population shortchanged by the pandemic: troublesome online learning, little to no job availability or security, uncertain futures, and they have been in high-risk jobs on the frontlines of the pandemic for little pay.
Kris Reppas, the chair of the Canadian Federation of Students- Nova Scotia (CFS-NS), laid out their vision for a just recovery for Nova Scotia.
"Elections are always great opportunities for us to get candidates to prioritize student issues and when it comes to a covid recovery, post-secondary education will be crucial in our ability to bounce back and it's also going to be crucial in terms of thinking long-term for the future of the province."
"We ultimately really want to see access to post-secondary education improved, hopefully moving to a grants not loans system, an immediate decrease in tuition, hopefully moving towards eliminating tuition across the country, and an increase in funding, as well as fairness for international students, like making sure that they have access to MSI upon arrival."
"In a just recovery we ultimately need to think about racial justice, maybe defunding the police, we also need to think about climate justice, and where our province needs to be in the next few years and long-term to meet our climate goals. We also need to think about what the immediate needs are that we need to address, like the current housing crisis, and the need for province-wide access to the internet, students are also workers and we need increases to the minimum wage to support young workers," says Reppas.
Although both Reppas and Suokonautio agree that there are issues with the political system and that continuing to organize outside of elections is crucial, they both also mentioned the importance of voting.
Elections can be a time to truly push for change, but the organizing can't stop there, politicians must be held accountable to their promises and continuously pushed to strive for better. The pandemic has made it even more evident how crucial rapid political decision-making is in the face of crises, they say.
"We need a just recovery that doesn't leave migrants behind!"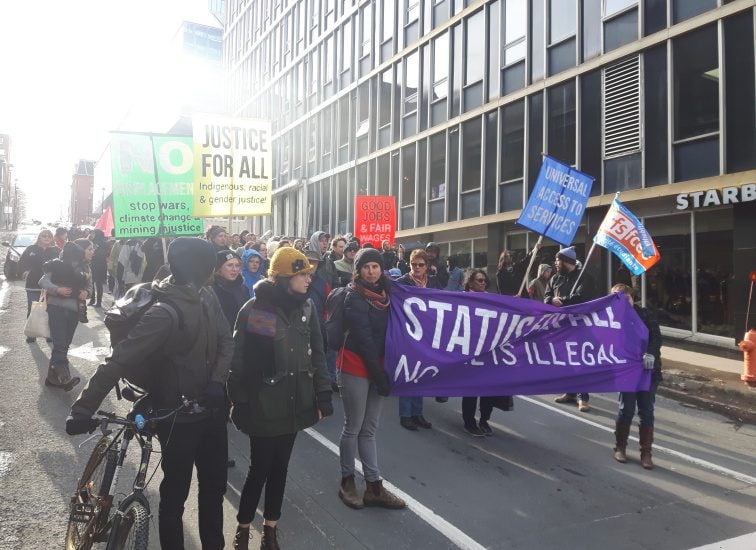 Some of the residents living on this land have not been afforded the same rights and protections as everyone else.
Tina Oh and Stacey Gomez of No One Is Illegal (NOII) Halifax explain that we need a just recovery that doesn't leave migrants behind.
"That should include full and permanent immigration status for all, including healthcare and vaccine access. Ensuring that migrants aren't denied access to essential public services like healthcare and education because of their immigration status. We also need to see stronger public and community commitment from everyone to challenge the pervasive racism that excludes, marginalizes, and vilifies migrants in our communities," they say.
Migrants, especially migrant workers, are often ignored in provincial politics. NOII Halifax is a part of the Migrant Workers Rights Working Group which aims to tackle the "systemic issues such as precariousness and food insecurity due to racism and an unjust immigration system" that migrant workers in Nova Scotia face. This has been especially crucial during the pandemic, as migrant workers have been disproportionately impacted by COVID-19 and many have been unable to access vaccines.
Tina Oh says that the most important thing for voters to watch for in election campaigns centering a just recovery is that we need no more politicians that evade responsibilities by saying that full and permanent immigration status for all is a federal issue.
"Local and regional action matters and that includes doing everything we can to make our communities safer and more dignified for all…that includes healthcare, access to public services that many migrants are excluded from, such as education for their children, subsidized transit and recreational passes and for provincial service providers to not interact with immigration enforcement," says Tina Oh.
While voting and holding elected politicians accountable are crucial, the electoral system itself reinforces systemic discrimination and harm, particularly towards people with precarious immigration status, like migrant workers.
"Most people with precarious immigration status cannot vote," Tina Oh says, "they are a part of our communities but are denied a right to vote in our so-called 'democratic' societies."
"Our radical principles and visions embedded in the No One is Illegal migrant justice movement, is inherently to end borders, including the systems that prop up white supremacy, border imperialism, racial capitalism through transnational and violent labour programs that are today's legacies of transatlantic slavery and attempts of Indigenous genocide across the world."
"We are committed to understanding that these extreme injustices cannot be repaired through a colonial state's election system."
"This is the moment to make sure all of our politicians know that we want action on climate change, biodiversity, resilience, and inequity,"
A just recovery must improve the world through the current systems, but also needs to work to dismantle these colonial systems that have allowed our province and our world to get to the point where we are faced with a pandemic, a mental health crisis, the climate crisis, racism, countless Missing and Murdered Indigenous Women and Girls, violence against women and children and 2SLGBTQ+ folks, a housing and poverty crisis, and so many other struggles that prevent people from surviving and thriving in our province.
Marla MacLeod, the Director of Programs at the Ecology Action Centre (EAC), is focusing on three major components to a just pandemic recovery: 1) cutting carbon dioxide emissions to address the climate crisis 2) protecting nature and 3) maintaining community resilience.
"Climate change is already here, and we are already experiencing the effects of climate change," MacLeod explains.
"We need to have resilient communities so that we can literally and figuratively weather this storm. This includes everything from supporting our farmers and local food systems, to protecting our coastal communities from sea level rise, to improving active and public transit so that all people can get around safely and feel safe in their communities, and that everyone who is insecurely housed have safe places to live."
MacLeod wants voters to know that the upcoming election is not the only opportunity to have their voices heard in the push for a just recovery.
The Nova Scotia government is currently holding community consultations online and through written submission to revamp the Sustainable Development Goals Act (https://cleanfuture.ca) and MacLeod explains that this is the moment to get people out to the public consultations.
"We [the EAC] have pulled together twenty goals of what we would like to see. We are really encouraging people to go out, go to the consultations and really put forward their vision for how they want the future of Nova Scotia to look. This involves our goals and eliminating environmental racism, ensuring that Indigenous, African Nova Scotian, and other marginalized communities have a seat at the table, to aquaculture and protecting our ecosystems, and getting more solar and wind energy," MacLeod says.
"This is the moment to make sure all of our politicians know that we want action on climate change, biodiversity, resilience, and inequity," says MacLeod, who is a big believer in the power of people mobilizing for change and holding their decision-makers to account.
While the pandemic has been challenging, saddening, tragic, and has increased inequities throughout Nova Scotia, it has also illustrated the capacity of governments to act quickly in the face of life-threatening crises.
The Covid-19 pandemic is not the only crisis we are facing; climate change, racism, homophobia, transphobia, housing, poverty, gender-based violence, ableism, and xenophobia are some of the many other challenges. But the pandemic has created an opening for massive systemic change, and this upcoming provincial election is a pivotal moment where our votes could really make a difference.