KJIPUKTUK (Halifax) – The African United Baptist Association of Nova Scotia,  an umbrella organization for 19 member churches, is calling for a consumer boycott of Sobeys stores in its communities across the province.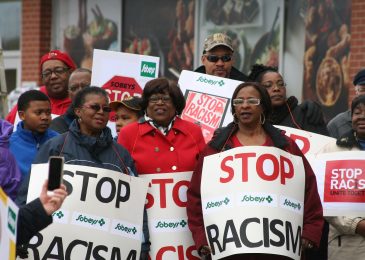 The churches are unhappy that Sobeys is appealing a decision by the Nova Scotia Human Rights Commission (NSHRC), and thereby extending the stress and suffering of an African Nova Scotian woman its Tantallon staff earlier falsely accused of shoplifting.
See also: Protesters to Sobeys: Stop causing stress to falsely accused victim of racial profiling.
The motion to engage in the boycott, proposed by Rev. Dr. Rhonda Britton, pastor of the Cornwallis Street Baptist Church and chair of its social action committee, was carried at the Association's general assembly on Saturday
"We're calling for the boycott until the grocery chain acknowledges its problems in the treatment of people of colour and implements the measures ordered by the Nova Scotia Human Rights Commission, says Rev. Dr. Lennett Anderson of the Emmanuel Baptist Church in Upper Hammonds Plains.
Anderson was instrumental in organizing the initial protests that raised awareness about the injustices done to Ms David, the person falsely accused of shoplifting at the Sobeys Tantallon store.
"Nothing has really changed since the protests in March,"says Anderson. "Our lawyer has informed me that it appears that Sobeys is willing to offer training to its employees. But what Ms. David really is seeking is an apology to her daughter, and that is when the process halted, because Sobeys is reluctant to offer an apology."
"Derogatory comments were also made about our community in Upper Hammonds Plains. Not only should an apology be issued to Ms. David's daughter, but also to the residents of our community, who were referred to as 'you people'," says Anderson.
"Don't be fooled to think this is just a Tantallon issue. I was overwhelmed at the demonstration by the number of people who traveled from Dartmouth, East Preston, and many other places, to share their personal stories. This sort of thing happens at the Bedford store, the Portand Street Sobeys, the Windsor Street Sobeys," Anderson says.
The boycott may well grow in size in the near future.
"We're going to Moncton for the convention of Atlantic Baptist Churches. We are only 19 churches, but we are going to meet up with 450 churches.  We are hoping that our sister churches will join in the boycott," Anderson says.
See also: Organizer of Sobeys protest: It's not skin-deep, its' a bone-deep issue.