Halifax – February 20, 2019
On the afternoon of Sunday, February 17th, some one hundred and fifty adherents to international climate crisis movement Extinction Rebellion blocked traffic at several major intersections in downtown Halifax. Bearing large banners proclaiming "Climate Crisis" and "Extinction Rebellion", the crowd waved multi-coloured flags with the group's iconic empty hourglass symbol, chanted and sang classic songs like Louis Armstrong's 'What a Wonderful World' and Joni Mitchell's 'Yellow Taxi Cab'. The group had alerted Halifax Regional Police to their intentions in advance. The police responded by blocking off broader swaths of the downtown, for safety purposes.
"After a while of holding the intersection, we realized the police were not interested in removing us," one participant noted. "They had blocked cars off so far away in each direction, we decided we needed to march on another major road in order to maintain visibility." The group marched down Spring Garden road and up Barrington, blocking traffic and prompting police to stay ahead and block even more sections of the downtown. The group marched all the way to City Hall, celebrating with chants of "this is what democracy looks like" before returning to Barrington to block it again. The group later travelled back up Spring Garden to block the intersection at South Park.
"We know we're risking arrest, but we also believe the scientific consensus that climate change is an emergency, and we want the government to acknowledge that and act on it," imparted one banner holder. "We've waited so long to act that now we need a rapid drawdown to net zero carbon emissions, just to have a decent chance of survival as a species. We feel that non-violent direct action is the only reasonable choice left."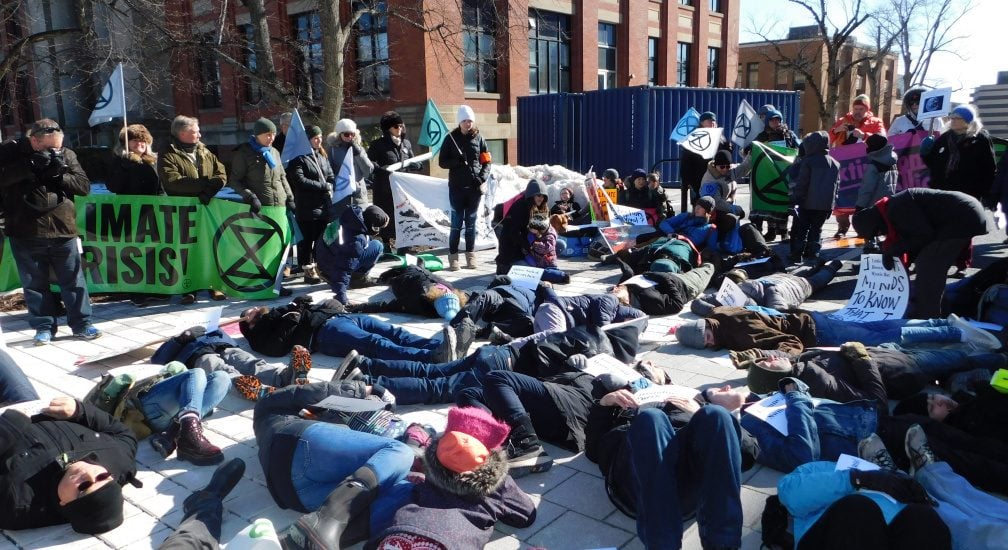 Some passers-by and motorists showed their support by cheering or honking, others indicated slight annoyance by waving off flyers or offers of cookies. One of the group's "cookie fairies" recounted a heartening encounter: "I was outside of a city bus holding my sign, apologizing for the inconvenience and I was surprised when the driver opened the door, said he believed in what we were doing and invited me aboard to speak to passengers. Almost everyone was very receptive and interested to hear about the IPCC report! I'm always amazed at how many people don't know about the IPCC report and how dire the situation is. That just underlines the fact that government and media are not making it big enough news."
Before taking to the street, the group performed a "Species Die-In". As they called out the names of different extinct and endangered animals, they rang a bell ominously to cue someone to fall to the ground and "die". When they got to the final species, they read out "humans, due to drought – humans, due to flooding – humans, due to food shortages…". The crowd banged drums and chanted as each person fell.
The action comes as part of a National Week of Rebellion, which saw similar actions in other provinces. The group demands that all governments acknowledge the climate crisis, enact an immediate drawdown to net-zero greenhouse emissions by 2025, and allow citizen oversight over the process.
"This is the first of many actions," added one organizer, "we're calling on all citizens of conscience to rise up in acts of non-violent rebellion against a course set for extinction. XR [Extinction Rebellion] has no leaders – anyone who accepts our demands and our principles, such as non-violence, can speak for XR and organize actions. Just go to rebellion.earth to get started!"
The Nova Scotia group hopes to build on the success of their first action, and plans to organize more talks around the province in the run-up to an International Week of Rebellion in mid-April.
While their demands may be getting some traction, as talk of green new deal proposals begin to pop up in certain political circles, they acknowledge they have some work ahead. "We have several decades of stalled reform to catch up on, but public sentiment and perceptions are shifting rapidly, and we're hopeful that could create the kind of political pressure to get us on a course for survival."
For further information, see: https://rebellion.earth/
XR NS on Facebook: https://www.facebook.com/ExtinctionRebellionNovaScotia/
Contact: Patrick Yancey
xrns@riseup.net
https://rebellion.earth/