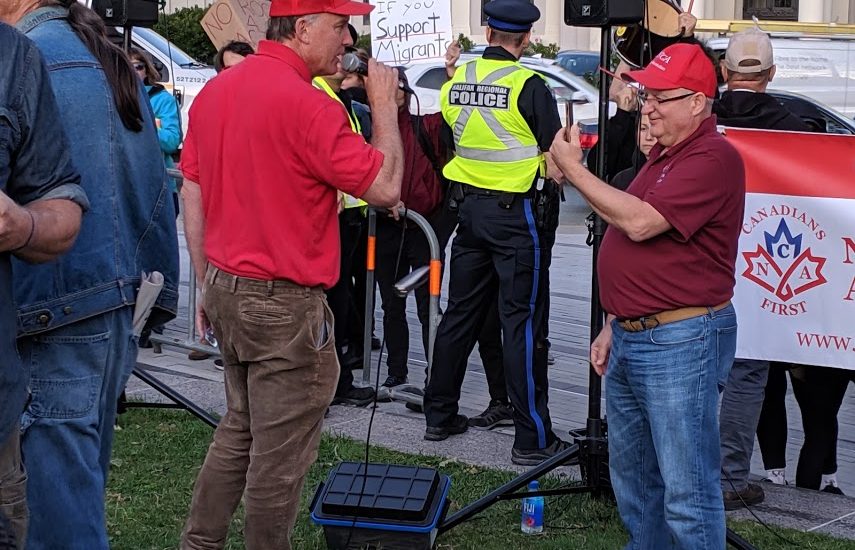 KJIPUKTUK (Halifax). When Stephen Garvey, leader of the white supremacist National Citizens Alliance, came to town yesterday, some 100 counter protesters were ready.
Much like his last Halifax visit, at Parade Square, in June of this year, or even the day before when he was in PEI, Garvey was unable to spread his hateful message.
See also: News brief: Halifax counter–demo shows NCA the door
When Garvey and three or four of his supporters arrived at the Peace and Freedom Park near the Halifax railway station, they were promptly surrounded by chanting protesters with noisemakers and drums, creating such a racket that he could not be heard at all.
Roughly 10 to 15 cops formed a shield around this pathetic bunch of racists. Garvey tried to give his speech, but gave up after half an hour or so, and left.
It was heartening to see so many people, old and young, of all walks of life, come out to send the message that everybody is welcome in this town. Everybody that is, except for repugnant racists. Well done, Halifax!
Meanwhile, here is a reminder that police in Halifax gets pretty weird sometimes, and that the fight against white supremacy in Halifax could use a bit of help: Op ed: Legal defence fund for NCA counter demonstrator needs our support.
The rally was organized by Halifax Against Hate and allies. Follow Halifax Against Hate on Twitter or Facebook.
With a special thanks to our generous donors who make publication of the Nova Scotia Advocate possible.
Subscribe to the Nova Scotia Advocate weekly digest and never miss an article again. It's free!