KJIPUKTUK (Halifax) – How can it be that an officially nominated federal candidate gets dragged through the mud; is accused of writing anti-semitic tweets; is then turfed from being a candidate for the NDP – yet wins the most prestigious Human Rights Award in Nova Scotia?
Don't ask me – ask the Nova Scotia Human Rights Commission and Partners for Human Rights. They made the decision that today saw Rana Zaman awarded the Individual Award for Human Rights at a touching ceremony with hundreds of guests at the O'Regan Hall in Halifax Central Library.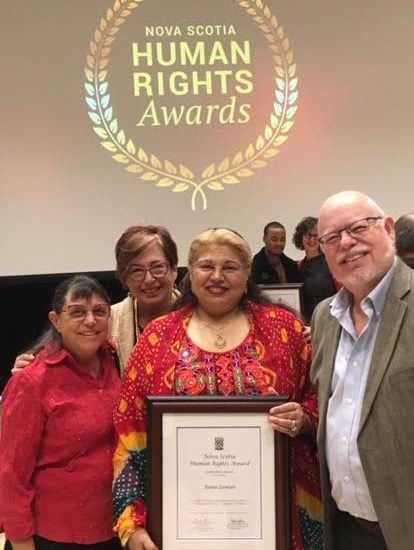 The program brochure described Rana as a "Muslim immigrant from Pakistan… an award-winning social activist who volunteers on several boards and works at the grass-roots level with marginalized communities. She collaborates with individuals, families and communities to address issues such as systemic poverty, sexism, racism, bullying and other human rights issues."
Does anything in those lines signal that the NDP was right to strip her of the nomination for the federal seat in Dartmouth-Cole Harbour?
See also: Judy Haiven: The NDP should allow Rana Zaman to run
Perhaps the NDP disagreed with other points in today's glossy brochure noted as the reasons for giving Zaman the award.
"Rana is driven with the desire to see unity and solidarity amongst all communities during a time when divisiveness and negative rhetoric is on the rise. She is devoted to building bridges through compassion, understanding, and patience. She puts herself out there to be the connector for anyone in need."
At today's ceremony, there were several other award winners including Trayvone Clayton, who received the Dr Burnley Allan "Rocky" Jones Award. Clayton's contributions focus on his community organizing work in Uniacke Square, his work to ban street checks and his desire "to uproot anti-Black bias in policing."
Both 902ManUp and The African Nova Scotian Decade for Persons of African Descent Coalition (ANSDPAD) received a Human Rights Group Award. The coalition's mission "is to build strength and health across ANS communities and forge a renewed collaborative positive working relationship with governments, ANS organizations, and our community that will create conditions for all people of African ancestry in NS to thrive."
Rana Zaman was not only given an award but it is clear that the impact of her community work and dedication was of a very high quality.
To say the least, this should be embarrassing for the NDP. In late June, two months after winning the nomination for federal NDP candidate for Dartmouth-Cole Harbour, Zaman received a phone call from Melissa Bruno, then the National Director of the NDP.
The problem was that year-old tweets by Zaman sharply condemning Israel's wholesale shooting of unarmed Gazans gathered at the separation wall had been "discovered". Bruno told Zaman the tweets were "unacceptable" and "anti-semitic" and Zaman could either rescind her nomination, or she would be removed by the NDP within a few short hours.
Zaman apologized to the Jewish community and others for hurtful comments: "My emotions at the sight of so many innocent Palestinians being shot, maimed or killed during the March of Return overwhelmed me. I have learned an important lesson, the need to be mindful…" Still the NDP removed her.
Since that day not one leader or leading member of the NDP has contacted her, or apologized for what the Party did to her.
Clearly Zaman remains driven by doing good, and by her deep understanding of human rights and dignity for all.
In November, Zaman won The Coast magazine's Silver Prize for being the Best Activist in Halifax, second only to super-activist El Jones. Today's award – though well-deserved — must be bittersweet for Zaman. Rana Zaman is a woman of colour who worked hard to win the NDP nomination, and clearly had so much to give – yet the NDP refused to give her a chance. And has yet to say sorry.
For a sympathetic and informative examination of Zaman's tweets see Stephen Kimber's column here.
Judy Haiven is on the steering committee of Equity Watch, a Halifax-based organization which fights bullying, racism and discrimination in the workplace. You can reach her at equitywatchns@gmail.com
With a special thanks to our generous donors who make publication of the Nova Scotia Advocate possible.
Subscribe to the Nova Scotia Advocate weekly digest and never miss an article again. It's free!