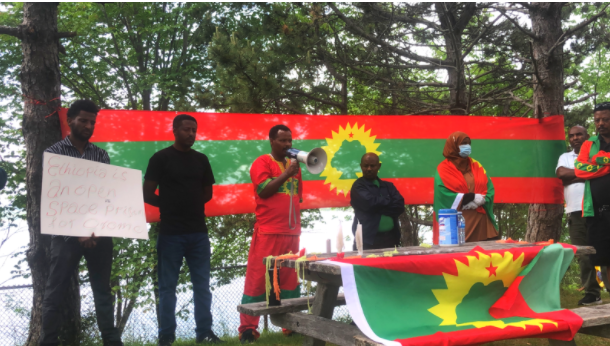 [Halifax, NS, July] – Hachalu Hundessa was a household name to the Oromo people of Ethiopia, the country's biggest ethnic group and the indigenous people of the region. Not only was he an esteemed activist, he was also a talented artist, having had the best-selling African album on Amazon in 2013. His ability to capture the centuries of oppression faced by Oromo people as perpetuated by the Ethiopian government, while showcasing Oromo heritage and capturing the hopes and joy of Oromo resistance made him a prominent artist. On Monday, June 29th, Hundessa was fatally shot while driving outside of the capital city Addis Ababa. In the aftermath of his death, 166 people were killed and 2,280 arrested as Oromo people took to the streets in protest.
Halifax has a substantial local Oromo population. About 80 individuals attended a local vigil held for Hundessa on Wednesday, July 1st (pictured above).
Tears were shed and passionate speeches were given on how Hundessa's music has impacted the local Oromo community, many of whom have family members in Ethiopia who have been affected by political issues currently as well as in 2015/2016. Back then, police brutality during protests against land seizures, mass arrests, marginalization, and government-orchestrated killings of civilians claimed the lives of at least 400 protesters.
The Oromo community invites you to stand in solidarity with us as we protest the injustices directed towards our people. Hachalu Hundessa's death was not a stand-alone incident, but rather a single case in a laundry list of Oromo causalities that have been accumulating for centuries. As well, our protest is in solidarity with protests held on Parliament Hill, Ottawa on the same day – Friday, July 10th. The protest will begin at 1 pm at Victoria Park.