KJIPUKTUK (Halifax) – Prison advocates are raising the alarm about appalling conditions at the Central Nova Scotia Correctional Facility in Burnside and the East Coast Forensic Hospital in Dartmouth.
A press release by the East Coast Prison Justice Society (ECPJS), describes frequent prolonged lockdowns, an absence of in-person visits and reduced opportunities to communicate with loved ones and lawyers.
"The conditions prisoners are forced to endure during this prolonged segregation are excessive, unnecessary and a violation of Canada's commitment to human rights," the press release states. Lock down conditions amount to "something close to the definition of torture recognized in international and domestic law."
Things are made even worse by the pandemic, says Dr. Adelina Iftene. Iftene is a member of ECJPS who teaches at Dalhousie's Schulich School of Law and recently wrote a compelling book about challenges elderly individuals face in prison.
"We have received very consistent and longstanding reports from people that there are a lot of lockdowns at Burnside. These lockdowns seem to be caused by a shortage of staff, and started well before the pandemic arrived. Now, because of the pandemic, prisoners in addition also face two weeks of quarantine before being released in the general population," Iftene says.
"These very extensive lockdowns are problematic for a variety of reasons and they are definitely illegal. Lockdowns are in essence a form of solitary confinement. It's just that we don't call it that and we don't subject it to the same rules and processes," says Iftene.
Even hunger becomes an issue for the people in prison, because during these lockdowns the evening meal is typically served at 4 PM, and then on weekends there is nothing to eat until 10 AM. This is creating a lot of unrest and is illegal, Iftene says. It's especially problematic for people with diabetes and such. 
The ability to speak with family partners and lawyers is also affected by the lockdowns, and aggravated since the arrival of Covid put a stop to face to face visits. Even the ability to make phone calls is affected since phones are in public spaces and inaccessible during lockdowns.
What happened to decarceration?
Nova Scotia earned a lot of praise when early on during the pandemic it actively worked to reduce the jail population by 50%, through measures like expedited bail hearings, conditional releases, and so forth. Keep in mind that by far most people in the Burnside jail are there on remand, meaning that they have not had their day in court yet.
Prison populations are just as vulnerable to infection as people in long term care, so reducing the prison population reduces risks for both prisoners and staff.
That effort didn't last though. We're back to pre-pandemic numbers, and so far the province has not designated prisoners as a risk group that should receive the vaccine with any kind of priority.
Considering that we are now facing a second wave of the pandemic Iftene doesn't understand why we aren't reducing the prison population once again.
"The first time around there wasn't an increase in the crime rate or anything like that. The media would have been all over it if that had happened. I've never heard of anything other than people breaching their administrative conditions of release here and there. There doesn't seem to be a rational explanation as to why we would not do this again," she says.
The East Coast Forensic Hospital – a special case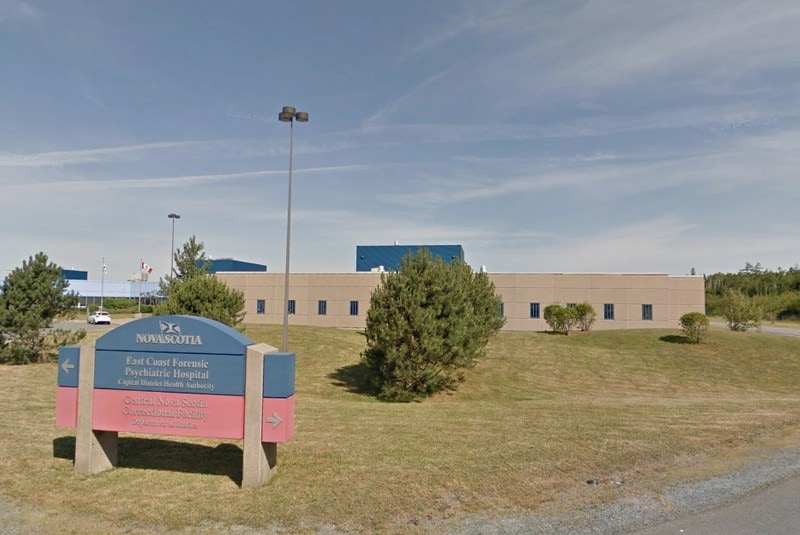 In many ways the situation at the East Coast Forensic Hospital is similar to what is happening at Burnside. But there is one difference that makes the fate of many of its residents if possible even more horrific.
People end up at the East Coast Forensic Hospital, a psychiatric hospital, through an encounter with the justice system. Individuals approved for release and conditionally discharged from the East Coast Forensic Hospital often have no place to go because Community Services is unable to provide supportive housing and related services. So they just stick around.
We learned this during a Human Rights Commission's inquiry into the lack of supportive housing for people who live with disabilities.
Some have waited for suitable housing for as long as six years, a report tabled at the enquiry suggested.
Now Covid-19 is making their decarceration even more urgent.
See also: Many stuck at East Coast Forensic Hospital for years because of lack of housing supports, human rights enquiry hears
Claire McNeil, a lawyer who represented various advocacy groups at that inquiry, and who is a member of ECJPS as well, doesn't believe the situation has improved.
"We were in touch with the Community Services Disability Supports Program early on to ask, what are you doing for this group of people who, in addition to being detained for no medical or legal reason, are also now being exposed to an elevated risk of infection? And we received no answer," says McNeil. "As far as we know, nine months into the pandemic, there's been no movement on that front."
Whether we're dealing with the East Coast Forensic Hospital or the Central Nova Scotia Correctional Facility, root causes for the province's reluctance to act are similar, McNeil says.
"It is a systemic problem. There's a range of actors and policies and practices, from the police all the way to the Public Prosecution Service to the courts, and they all contribute to this. But that also means that they are all part of the solution to this problem of unnecessary institutionalization of people," McNeil says.
See also: Jamie Livingston: Freedom on hold: COVID-19 shines a light on ongoing institutional injustices
With a special thanks to our generous donors who make publication of the Nova Scotia Advocate possible.
Subscribe to the Nova Scotia Advocate weekly digest and never miss an article again. It's free!