KJIPUKTUK (Halifax) – Members of Equity Watch, an organization that fights for an end to bullying and racism in the workplace, want the Halifax Auditor General to look into working conditions for the City's employees.
At an Equity Watch press conference this afternoon at St. Andrew's Church on Robie Street, Judy Haiven, former firefighter Liane Tessier, and former councillor Jackie Barkhouse all expressed their frustration about the city's lack of progress. The city is not in any real way dealing with a long list of complaints about working conditions from workers in most divisions, they say.
Meanwhile Raymond Sheppard, a spokesperson for African Nova Scotian city workers said things in the Municipal Operations Program division have not improved since Halifax CAO Jacques Dubé famously apologized and promised to deal with these issues. When we met with the CAO, he explained that as an Acadian he understood our problems. That's not why we were there, Sheppard said.
"In all honesty there has not been one thing done to deal with African Nova Scotians being passed over for promotions, hearing the n-word every now and then, not being considered for access to training, and so many more. All I see is people paying lip service," Sheppard said.
"They check off tasks, but they lack the political will to make real changes. The door must not only be opened, but a hand must be extended in welcome," said Sheppard.
The phenomenon of a dysfunctional workplace at City Hall is widespread, said Haiven, listing  a litany of complaints and issues that have come to the fore in just the last few years.
Last year the city had to apologize to firefighter Liane Tessier for systemic gender discrimination at Halifax Fire, and this year we heard of a reign of racist terror at Halifax Transit, we had African Nova Scotian outside workers rally at City Hall because of racism they encountered at work, and chief financial officer Amanda Whitewood left the City's employment soon after she received inappropriate text messages from Dubé, Haiven said.
Haiven referred to one recent incident where an employee was told to take down a rather innocuous anti-bullying sign, designed by the Halifax Regional Police Department, that he had put on his cubicle wall. The employee was on stress leave for five months after being chewed out by management, and a year later a grievance filed by NSUPE is in arbitration.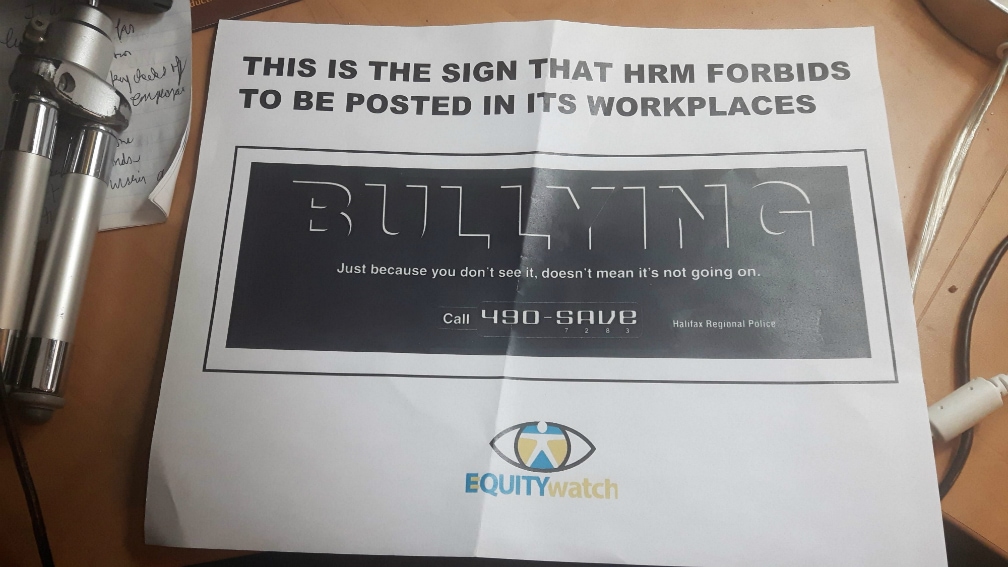 "This case is going to cost the union and management tens of thousands of dollars, the City could settle this today, say they're sorry, yet they choose to fight the employee and the union, much like it fought the Halifax Transit human rights case for years, and for what?" Haiven said.
A management structure that has shown itself that powerless to tackle these issues can't be trusted to fix itself, said Haiven, calling upon an independent body such as the City's Auditor General to look into these matters. "Justice must be done, and it must be seen to be done," Haiven said.
There are parallels between what is happening at the City and the scandals that plagued the Dalhousie dentistry faculty in 2015, in that it took an entirely independent observer like Constance Backhouse to deliver a credible investigation and recommendations. Earlier in-house efforts by the university to resolve the issues were weak and inconclusive. It is that kind of independence that made Backhouse successful and that only the City's  Auditor General can bring to the table, Equity Watch believes.
Former firefighter Tessier, who received formal apologies from both the Nova Scotia Human Rights Commission and the City after her gender discrimination complaint was validated by a Human Rights Tribunal, said many of the commitments the City made at a a result of that decision have not been followed up on.
"Halifax Fire promised to change hiring practices and introduce effective policies to deal with a systemic gender bias," said Tessier, "yet we have seen no evidence that any changes have been implemented. The City committed to make it safer for women to speak out, but what did HRM do to address this?"  
Tessier points to the case of former firefighter Kathy Symington, who like Tessier experienced discrimination and bullying, and who has been battling both the City and the Human Rights Commission to find justice. Have the City and the Human Rights Commission learned nothing from my case, Tessier asked.
Jackie Barkhouse spoke of her frustrations while serving as a Councillor for District 8 (at that time, Woodside-Eastern Passage) from 2007 to 2012. I witnessed harassment, and suffered harassment myself, she said, and I raised it time and again with Mayor Peter Kelly, Human Resources officials and senior management.
Most of the Equity Watch members at this time are current or former employees of HRM, and that's no coincidence, Barkhouse suggested. Management is passive and reactive, acting only when issues around working conditions are formally brought forward, rather than genuinely trying to address problems before they escalate.
See also: Making the questions go away. City implements dubious tip line, starts process to acquire consulting services
If you can, please support the Nova Scotia Advocate so that it can continue to dig out videos worth watching and  cover issues such as poverty, racism, exclusion, workers' rights and the environment in Nova Scotia. A paywall is not an option, since it would exclude many readers who don't have any disposable income at all. We rely entirely on one-time donations and a tiny but mighty group of dedicated monthly sustainers.
Subscribe to the Nova Scotia Advocate weekly digest and never miss an article again.